Stray Souls: Dollhouse Story
Solve A Dollhouse Mystery! in addicting Stray Souls: Dollhouse Story Game
System Requirements
OS: Windows XP/Vista/8
CPU: 600 Mhz
RAM: 128 MB
DirectX: 6.0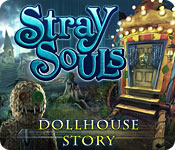 Stray Souls: Dollhouse Story Game Description
Welcome to a town where something that should not exist runs free; where a desperate wife will risk her beating heart to find her husband; and where a terrible secret lies buried behind an orphanage. Search for clues, solve puzzles, and unlock new areas as you visit spine-chilling locations, play stimulating mini-games and locate Hidden Objects. Stray Souls - A Dollhouse Mystery will take you to a dark and spooky world!
Stray Souls: Dollhouse Story full version features include:
Stray Souls: Dollhouse Story Game Customer Reviews
This is a IHOG/Adventure game and the music really sets the tone of the game from the start. The storyline is about a wife looking for her husband who has disappeared. The graphics are excellent. You have the option of casual or expert modes. I played the casual which has a faster recharge on the hint and twinkles. There is quite a bit of going from one place to another to find things. There are some morphing objects to find that have nothing to do with solving the mystery but when you finish the game and see you missed some you're going to want to play it again and try to find them all. At least I did. There is a doll that is your guide and between that, the map and the journal the wife is keeping, you can navigate this. The map will tell you where you are and if there is an area you need to do something. The hidden object scenes are very good in that you can see things, they're not hidden in black areas. If you make too many clicks the screen will fill up with orange smoke.

In summary, this is a very well done game & if you like IHOG's you are going to love this. It has good music, the graphics are good, the story holds your attention, and there's adventure. Have fun!

- by mavethrave
The graphics and storyline is the best so far. Its creepy but not gory. I played the beta and saw some good changes. It took me about 3 hours to finished the main game and 1 hour for the bonus. I love they put in the deleted scenes in the extras stuff. Some of it was in the beta version and not in the game that came out. They tone down some stuff from the beta and changed the story being told with the puppets in the doll house. If people want to wait until BFG has it then its oks. The bonus has some good stuff but a lot of the same old extras. This one has a storyline but you have to finished the bonus chapter to get it.

- by tarbarme
Wow! This game is spooky! I've waited for the SE, as I do all games. I'm glad it's here,but I'm scared. lol I find this game to be one of the scariest I've played. There are alot of surprises. I can't imagine anyone not liking this game. It is great! Very spooky. I'm not one who loves the scary games the most, but they seem to be the best graphics and puzzles. I'm sure most people have already gotten the CE of this game. But I think the SE is great.

I'd rate this: FINE SWINE.
FINE SWINE: Great game. Bells and whistles, best, greatest, I love it.

- by LovetoMissLisa
Loved the demo from Alawar, but due to finances will have to wait till it's not full price (BFG hopefully). Loved the morphing objects, similar to the MCF series. The hidden objects were challenging enough and not too light or too dark. The mini-games were also fun, and appreciated the ability to skip. I played the difficult game and was happily challenged. I liked the sound effects, and the occasional shock - liked the story and videos also. Will look for this great game later on!

- by jones
One of my top 5!! Graphics were excelent.The story is creepy but in a good way.It just draws you in.Its a HO seek n find.You need to find objects to do a task.It isn't a huge map area where you can remember what you need to do once you find an object,which is good. The sound affects add to the story. And I let out an "aw" when my trail period was over. Definatly left me wanting more. Do buy

- by Melissa1980
Related Games
If you like Stray Souls: Dollhouse Story game, you may also like...