Millionaire Manor: The Hidden Object Show
Find your missing grandfather! in addicting Millionaire Manor: The Hidden Object Show Game
System Requirements
OS: Windows XP/Vista
CPU: 1.8 GHz
RAM: 512 MB
DirectX: 8.1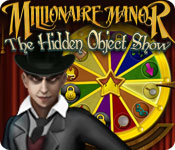 Millionaire Manor: The Hidden Object Show Game Description
Your grandfather has disappeared! The only clue he left is a cryptic message about a game show that no longer exists. Can you overcome the mysteries of the Millionaire Manor and stop the macabre machinations of a madman? Can you uncover the secrets of your unhinged Host? Take on the challenges of The Hidden Object Show once more and save your fellow contestants from a gruesome fate!
Millionaire Manor: The Hidden Object Show full version features include:
Bonus stages
Zany characters
Find your missing grandfather!
Millionaire Manor: The Hidden Object Show Game Customer Reviews
Straight HOG, like the earlier games in this series. The idea is that you, by being a contestent in the game, can free locked up persons, each level one. The gamemaster is the character from the earlier games, but at his darkest side. He gives comments now and then or laughs meanly, things like that. In this game there's no crowd cheering or saying 'aahhhh...' which I found an improvement.

In the options menu you can put things on or off, being fullscreen; autopause; custom cursor and in-game help. Also you can adjust the loudness of sounds, voices and music.

This is an untimed game, except for the bonus rounds that pop up now and then in the scenes. You get a limited time to collect pieces of chips in those short rounds. The chips provide you with bonusses like more hints or a chip to be able to skip modes.

Grapchics are good, objects can be found fairly easy. Between search rounds you have to spin or autospin a wheel of fortune to see which mode you'll have to play next. Before spinning you can place a skip chip, if you have one already, on a mode you don't want. Modes are, for example: find objects from a list; find 10 of the same objects; find objects that are shown in silhouettes and spot the differences. More modes will be unlocked during the game.

A nice game, if you like the style. 5 out of 5 to me. Happy Gaming!

- by CasualGran
I absolutely loved this game and am looking forward to playing more than an hour. The game had great graphics and fun puzzles. You had to go into different rooms such as: a library, hall, observatory, etc. and find objects including planets, gems, etc. The puzzles were fun. This big black crow tries to talk to you and all he can do is caw, caw. You go to other rooms and find different articles such as foods, etc. and then you mix up a potion; take it back to the crow; he drinks it ; then he begins to talk to you in English. I hope you enjoy this game as much as I did.

- by tutor
I admit that I havent been a huge fan of The Hidden Object Show games in the past, but this one is totally different and in a league of its own.

Nice clear graphics and a nice mix of HOG scenes which you access by spinning a wheel and whatever it lands on is the scene you play (think Wheel of Fortune). I believe you can also earn chips throughout the game that will allow you to skip certain types of scenes you land on and try again if you dont like them. ...All in all, I really like this game and if, like me, youve never been a huge fan of The Hidden Object Show games, give this a go C its a totally different concept than the others and you may be pleasantly surprised, as I was! And once again, thanks for these fabulous games.

- by Sue
Related Games
If you like Millionaire Manor: The Hidden Object Show game, you may also like...