The 80's Game with Martha Quinn
Totally fun 80's trivia challenge. in addicting The 80's Game with Martha Quinn Game
System Requirements
OS: Windows ME/2000/XP/VISTA
CPU: 600MHz or faster Processor
RAM: 128 MB
DirectX: 6.0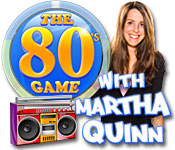 The 80's Game with Martha Quinn Game Description
The 80s Game With Martha Quinn is a fantasically fun trivia trip back to the 80s, hosted by your favorite 80's VJ, Martha Quinn! 80 Fantastic Trivia Episodes await you. Test your knowledge in areas of Music, Movies, Sports, TV and Wild Card while collecting 80's gear. Can you win the Delorean?
The 80's Game with Martha Quinn full version features include:
Over 3000 Totally Tubular Questions!
Versus Mode Let's You Challenge Your Friends.
Classic 80's MTV VJ Martha Quinn Is Your Host!
The 80's Game with Martha Quinn Game Customer Reviews
Are you into 80s movies, games, T.V. shows, sports, music, or anything else from the 80s? If so, then this is your game. Prepare to travel through time back to the 80's as Martha Quinn, former MTV V.J., host this out of the world trivia game that brings back old memories for some of us.

If you recall the Tubes, "Never Say Never Again," and the introduction of Burger King's Croissan'wich, pick up The 80's Game and relive the good time. This game is fun for the whole family, as well as getting together with your friends and trying to see who is the 80s master.

- by Rebecca A. Waddell
I was a teenager in the 80s this quiz is a must for all who remember the good ol times from the rubiks cube to micheal jackson to miami vice and all good things that time forgot.

- by sarah temple
Related Games
If you like The 80's Game with Martha Quinn game, you may also like...