The Chronicles of Emerland Solitaire
Defeat the forces of darkness and defend Emerland! in addicting The Chronicles of Emerland Solitaire Game
System Requirements
OS: Windows XP/Windows Vista/Windows 7/8
CPU: 1.0 GHz
RAM: 512 MB
DirectX: 9.0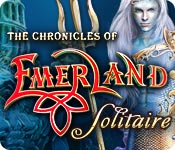 The Chronicles of Emerland Solitaire Game Description
Defeat the forces of darkness and defend Emerland in The Chronicles of Emerland Solitaire. When deciding to learn card magic at an old wizard's school, you couldn't have imagined that fate had chosen you as the savior of the world. When Emerland is threatened by the evil sorcerer, Sat, you must unite the races of Elves, Humans, Dwarves and Mermaids. Only together can you challenge him!
The Chronicles of Emerland Solitaire full version features include:
Stunning graphics
Mixture of solitaire and hidden objects
Fascinating story
Use special cards to help you past tough layouts
Engage in Hidden Object mini-games for even more fun
The Chronicles of Emerland Solitaire Game Customer Reviews
I only played part of the demo before I bought this game, as I was impressed, and I love solitaire games. So far, I love it!

It has a magic theme, which is nice, with pleasant graphics and music. There are coins to find, some under the cards, and things in a shop to purchase with the coins to help you with the solitaire levels. You advance in levels as you play. I was hoping for a new, interesting solitaire game, was happy to find this one. :)

- by bep1
I have played a few Solitaire games on Big Fish Games I enjoy playing but this is by far the best. The graphics are beautiful, the music is nice (I rarely let music in games play.)and the gameplay is a little different from the norm. I like the way the card games and hidden object games are integrated right into the story line. I also like that levels can be replayed without penalty and the game is not timed in casual mode.

I am normally pretty good at getting perfect scores but they are not so easy to come by in this game. I guess I have to buy things at the store to help me out.

The story was engaging enough for me but the total package is a joy to play. I was not planning to buy anything today but I was so enthralled with this game I bought it at the end of the trial without hesitation. Excellent game.

- by Dialogue
It's hard to rate this game because it all depends on if you like the only solitaire game you will play over and over throughout. This game is 90% solitaire and 10% HO hunts (all for mutiples of the same thing - no lists). It's a simple solitaire game: you can play one number higher or lower than the face up card from what is showing on the field The only variation is the layout designs of the hands. You must finish each of 10 hands of solitaire with 5 or fewer cards remaining - otherwise, you have to replay the hand. The problem for me is that it can take quite a long time to succeed 10 times in a row. If you quit before you've finished the 10, you lose all your progress for that round. This means you have to keep playing or else, even if you're ready for a break. Other than that, the game is good: nice relaxing background music and lovely decks of cards. You can earn extras as the game goes along to buy special enhancements, but they are added very very slowly, as I played for 4+ hours yesterday and only got to the 2nd level. Map (not needed for changing locations, only to show grame progress) indicates that I still have a very long way to go, so game is quite long. Again - if you like solitaire, this is a goodie; otherwise, you will grow tired of the repetitiveness of the gameplay.

- by Miranda22
This game is now my favorite solitaire game! The voice overs are excellent. The characters you meet are helpful especially favorite is the elf. This is more than a mere solitaire game, there are find hidden objects also but it becomes part of the story. The store is fun to shop in. The game has so many things going for it beautiful graphics, interesting game play. I have purchased All versions of Fairway the golf game, as well as all Kingdom Quests Solitaire games, if it is a storyline Solitaire game I own it. I would rate this 10 stars if I could. If you love a storyline with audible voices with your Solitaire games please try this out I do not think you will be disappointed. I love solitaire games that are higher up or down in ranks and can be played without a timer. I hope the game developers will make a sequel of the game. I forgot to add when you see a broken bridge under the cards will be the material you must find for it. This is only a small example. Animation is Beautifully done! The villain mocks with a evil laughter when you have 4 or more cards left. Do not despair another favorite part of my game is you can continue to replay the level until you get a perfect or lower than 3 cards left. I play this game daily and until a sequel comes out will continue to play the game.

- by sherryah
Wonderful game! Graphics beautiful, music soothing and mystical, and challenge is there even in casual mode. Very close voices and music to Lord of the Rings. Great adventure for all who love solitaire.

- by reviews
Related Games
If you like The Chronicles of Emerland Solitaire game, you may also like...