The Clumsys 2: Butterfly Effect
Can you help Helen correct history? in addicting The Clumsys 2: Butterfly Effect Game
System Requirements
OS: Windows XP/Vista
CPU: 1.0 GHz
RAM: 512 MB
DirectX: 8.1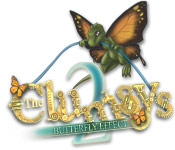 The Clumsys 2: Butterfly Effect Game Description
Grandpa Clumsy is up to his old time travelling shenanigans again and has upset history by inadvertently bringing a butterfly back with him from prehistoric times. Who knew a single butterfly not flapping its wings would cause a chain reaction through time changing our modern day into the Stone Age! Helen needs to take matters into her own hands and rediscover all of civilizations greatest discoveries that never happened in The Clumsys 2: Butterfly Effect, a fun Hidden Object game.
The Clumsys 2: Butterfly Effect full version features include:
Unique gadgets
Fun scenes
Help correct history!
The Clumsys 2: Butterfly Effect Game Customer Reviews
This game is excellent. Make you think instead of just looking for HOG. Very interactive and I love the fact that you can search some area's by opening different objects. The best part is you must remember what was in the scene because when you need to clean up the room different objects are all over the place that wern't there before. Hints replace quickly and again the purchasing factor for me is I really had to think about what to do next. Excellent..hopeful we are back on the great HOG winning track again.

- by ookforit
This is an outstanding game! Always on the lookout for a game to play with my 9 year old grandson, I was delighted to play the demo with him, and with his encouragement to buy it so we could play more than the 3 episodes we played (30 in all). He was intrigued by the historical persons and events. Beginning episode three with the phonograph, I got to show him my turntable and the "very large CD's" called 33 one-third! For my purposes, Clumsys 2 readily earns 5 start; others may not view it as highly. Surely, though, the developers put an awful lot of good stuff into this game! Robertson

- by Robertson
Fine graphics, interesting gameplay. I hadn't played the first Clumsy so I didn't at first grasp how the gadgets and their assembly worked. Downloaded the first one to get the hang of it - Clumsy 1 has more of a tutorial. Clumsy 2 seems at least as good a game. I think I will buy it when I have a BFG credit. I specially like that it shows actual authentic looking scenes and not nearby fruitstands (the way Big City Adventure tends to do). The scenes are beautifully portrayed and include snippets of history.

- by cnmoore
Related Games
If you like The Clumsys 2: Butterfly Effect game, you may also like...