The Path of Hercules
Follow the path of Hercules and become the hero of Ancient Greece! in addicting The Path of Hercules Game
System Requirements
OS: Windows XP/Windows Vista/Windows 7/Windows 8
CPU: 1.0 GHz
RAM: 256 MB
DirectX: 8.0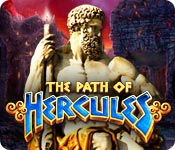 The Path of Hercules Game Description
Follow the path of the great hero of the past, Hercules, as you embark on a new exciting journey! Ancient Greece prospered under the patronage of the mighty gods of Olympus, but over the years, its residents forgot to give the deities their due and thank them for the abundance and happiness in which they lived. Restore seven ancient artifacts to appease the gods and save the wonderful Peloponnese from destruction. Engage in a unique mix of Match-3, Hidden Object and Adventure gameplay and complete challenging quests on your way to victory!
The Path of Hercules full version features include:
Enjoy over 60 Match-3 and HOA levels
Explore seven legendary cities
Become the hero of Ancient Greece!
Exciting quests.
The Path of Hercules Game Customer Reviews
Most Match 3 games bore me very quickly, but this version is really well done. The graphics are excellent, there's a nice mix of Match 3 with other puzzles, and the story line is excellent. This would actually be a great educational game for kids, as it teaches the basics of Greek mythology in a very entertaining way.

- by curly951
It starts with a well written, interesting story that brings you in right away and gives you a quest--return the ancient artifacts of the gods to save the city. The v/o and music/sound are high quality and the graphics are pleasing and sharp. This is a combination of match 3, HOS, and scenes where you restore found objects to the scene, which makes it really interesting. The power ups carry over from board to board, giving you an additional opportunity to use strategy in your gameplay, and the boards get progressively harder as you go along. The levels are timed, but you get plenty of it. And once you've dropped the items down off the board the round is over, so you don't feel rushed. I got a real sense of progression and achievement as I went along, which makes me want to keep playing to get to the next level and restore the next artifact. The story is woven into the gameplay so you also learn about Greek gods and heroes while you play. I happen to like that, but you can also just click past it if you don't. This is a definite buy for me!

- by berrygood
This is another great Match 3 from Playrix. You have a good story which unfolds with every level (in this case it is the exploits of Hercules), you have progressively more difficult Match 3 play, and after every series of four levels you have a hidden object level thrown in for a change of pace. The levels are colorful, and the game pieces are easy to see. If you finish the game and want more of a challenge, keep playing! I'm in the middle of my second round, and there are more impediments and higher difficulty levels, so you can really keep playing indefinitely. I wish there were many more of this type of Match 3. It has it all!

- by cat_in_rv
I am an adult whose job involves a lot of spreadsheets. After work, I need to use the part of my mind this game requires as a non-stressful challenge. It has enough correct mythology to keep it interesting and the mix of games is just right for what I need to wind down the day.

- by Barb
Related Games
If you like The Path of Hercules game, you may also like...