The Promised Land
Build a thriving colony in a vast wilderness teeming with surprises! in addicting The Promised Land Game
System Requirements
Windows XP, Vista or 7
2.0 GHz processor
2 GB RAM
500 MB hard drive space
DirectX 9.0 or later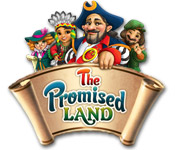 The Promised Land Game Description
Take charge of a small group of settlers and build a thriving colony in The Promised Land, a casual strategy game for the adventurous at heart. Gather resources, erect buildings and establish trade as you explore a vast wilderness teeming with surprises! Can you tame the New World before it tames you?
The Promised Land full version features include:
Vibrant graphics, extraordinary character animation
Over 24 hours of intensely rewarding gameplay
Every mission, upgrade and trade is yours to choose
Build a thriving colony!
The Promised Land Game Customer Reviews
I bought this game after a few minutes into the demo. After playing it for some hours I had to force myself to stop!

This game is not really a Time Management more like a Sim. It says that you can play as you wish but there are plenty of guidelines given in game which act as tutorial. The speed is not controllable so at times it may get boring, when towards the middle of the game you need many resources to upgrade your buildings or research. I guess a more strategic use of my earlier choices could have saved me of that.

Graphics, music, story are pretty nice and blend nicely together.

- by GoneFishing
If you loved 'Artists Colony' or 'virtual villagers' - this game is for you. It's so enjoyable to play but i restarted it about 3 or 4 times (I got it from another gaming website last week) - i made the mistake of not gathering enough food. Unlike virtual villagers, you don't have deaths and births - as soon as you get enough money you can 'buy' apprentices to work in the forge, laboratory, kitchen , and other places and also get them to gather food and chop down trees. You start with 5 apprentices - each of them loves to do different jobs - if you stick them in a job they hate, they get 'ill' quickly and have to go to the hospital to eat healing herbs. I'm nearing the end of the game and it has taken me days to do this with about 5 hours gameplay per day. I now have 40 workers and have built and enhanced most buildings. The only thing I really have left to do is clear the gold mine ....It's such an enjoyable game - but I would have preferred the lab research to be a bit swifter (to enable upgrades for skills in nature, sailing, agriculture, archaeology, construction and building). There is a mini game included which is a type of angry birds game - but you kill pirates instead!

- by Cazzle18
A very good game , with good graphics and quite nice music. The game and the story quite similar to gemini lost but not as good , in my opinion. Some people do some tasks ,try to build and find resources. I liked the game but I would prefer it to be more difficult. But the game definitely worth a try...

- by frini7
Related Games
If you like The Promised Land game, you may also like...