Theatre of the Absurd
Outwit the sinister forces to save a little girl. in addicting Theatre of the Absurd Game
System Requirements
OS: Windows XP/Windows Vista/Windows 7
CPU: 1.0 GHz
RAM: 512 MB
DirectX: 9.0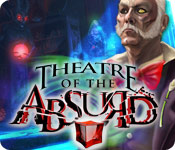 Theatre of the Absurd Game Description
Scarlett Frost, specialist in the dark arts, has been summoned to a luxurious and remote theatre in the snowy Italian Alps. Could it be that the infamous and diabolical Hapsburg Cube has been found and purchased by the sinister theatre proprietor, Dr. Corvis? The cube is said to imprison a powerful and ancient Babylonian demon that would wreak hellish destruction if the cube should break. In a moment of desperate confusion the cube breaks and the demon bursts forth into the souls of the Dr. Corvis and his young Daughter Bethany. The ancient theatre in the lonely winter mountains becomes an arena of spiritual war, between the darkest forces of the underworld and the cunning and esoteric mind of Scarlett Frost. But Scarlett soon finds out that the only way to fight a demon this powerful is to become possessed by one herself. Only then can she acquire a ticket to the Theatre of the Absurd.
Theatre of the Absurd full version features include:
Mind-bending puzzles
Vanquish evil spirits
For a more in depth experience, check out the Collector's Edition
Theatre of the Absurd Game Customer Reviews
Great story line, easily followed and played on advanced setting.. still get hints if you need them.. good afternoon.. More of this type would be wonderful..

- by nyvaughan
Played this on casual/easy mode and found it to be relaxing and interesting game play. Sparkles, but not overly annoying or intrusive. More HOGs than puzzle games and the puzzle games can be skipped.

Storyline was a bit different, which to me was a definite plus. Not for everyone as it has a very strong occult theme and there are some "unpleasant" scenes that some people may not like. I'd recommend trying the trial first as that will give you a good sample of the game because that's the worst it will get. Decent length. Did find some of the HOG scenes a little difficult to see, but nothing too bad that using the odd hint wouldn't resolve.

The story kept me going and what I really enjoyed was the fact that I wasn't running around as much as we do in some games. There's a bit of back and forth, but there's a handy back button rather than sneaker wear.

Definitely worth your time, but unless you are sure that occult/somewhat scary scenes are fine with you, try the trial first. Glad I bought it.

- by kimvy
I'm not the biggest fan of HO games (TM are my favs) but this is the only type I will play (mystery/puzzles/HO combined). This was actually very good, tho a bit easy. Definitely worth the time. Beautiful graphics too.

- by homebody395
Lately, I've played a couple dozen HOGs. This game stands out to me as being one of the more creative ones. I actually restrained from using the walk-through and strategy guide so I could prolong the game play. The artwork is stunning. I also enjoyed that the distribution of pieces for any given collection weren't so scattered that it required a ridiculous number of screen transitions to find them. I also appreciated that after spending the time and effort find hidden objects per scene that I was rewarded with more than one item. There were a couple of times when I wished there was a map, but because the annoying wandering was minimized, I didn't have too much trouble remembering were rooms were. Which reminds me, the game prominently displays the room names, which was extremely helpful.

- by ddmcc
The story line is original and engaging, and the graphics are a joy. I felt like I was there, not a spectator. The hidden object scenes were satisfyingly difficult, but not impossible. I admit to having to ask for help on three occasions to find an object, but if I can find everything easily, what's the point?

But it's the puzzles that really make this game. There was a nice variety of puzzles, and while none of them were unique, some of them I haven't seen in a long time, such as having to determine where small pieces of a picture fit into the whole.

You're not on your own here, either. Your "arm" will tell you where you need to go, if you can just remember how to get there. There is a bit of back and forth, but in this case, I didn't find it at all annoying.

Overall, this game is a winner on every level. I will certainly play it again. But it should not be played by children, or even tweens, in my opinion.

- by Cat_In_RV
Related Games
If you like Theatre of the Absurd game, you may also like...