Time Dreamer
Travel back in time with Time Dreamer! in addicting Time Dreamer Game
System Requirements
OS: Windows XP/Vista
CPU: 1.2 GHz
RAM: 512 MB
DirectX: 9.0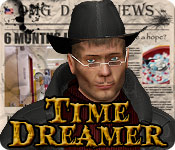 Time Dreamer Game Description
Travel back in time with Time Dreamer in this fun and exciting Hidden Object game! Help our hero travel to the past and save his father, and even the world! Use this special ability for good as you attempt to make the future a worthwhile world to live in! Explore gorgeous scenes and find Hidden Objects to progress through your journey and succeed.
Time Dreamer full version features include:
Awesome gameplay
Fantastic story
Travel back in time!
Time Dreamer Game Customer Reviews
I'm just about to start chapter 6. What a great game! So funny and clever. Objects are hard to find. Really enjoying the challenge. And I like it that I've managed to figure out what to do myself (more or less). Visually exciting. Great fun!! Enjoy fellow fishies!!

- by vicalana
Just finished the demo and am about to purchase the game. A very well-made and creative game. You play the game in the 1st person; there is no omnipotent 3rd person narrator to tell you what is happening. You learn what the central character learns as he learns it. So the action begins in medias res and you try to understand what is happening. Nice.

You can play 1 of 2 levels. Although I am at best an average player, I tried the advanced level and did not find it too hard. In the advanced mode the game does not signal areas you need to investigate,. Instead, you have the fun of discovering them for yourself. I appreciate a game that lets me explore on my own. I hope that this 2-play-alternatives option becomes standard.

The objects in the HOG scenes are clear and cleverly hidden at the same time. Plus, they are story-appropriate -- no anacronisms. The hint button refreshes quickly, and I did not need to use it that often. A journal keeps track of your progress and tells you your current objective.

The narrator has a sarcastic sense of humor and acknowledges the conventions of this type of game. As one point, he tries a door, finds it locked, and thinks :"Another locked door. Of course." The game does not take itself too seriously and the player has a good time because of it. This a GOOD game

- by tropdechats
I never follow the stories in HOGs in general, but this one had me at the opening. I only hope it is not a short game, as I am enjoying this IHOG with its atmospheric sounds and music, creepy characters, fabulously drawn scenes. One bit of warning is the items are sometimes very small, but you won't care as you'll be enjoying the view. I am playing in casual mode and stopped to buy this game. Wonderful!

- by burningswan
Related Games
If you like Time Dreamer game, you may also like...