Tradewinds Legends
Discover a world of magic on the high seas in this strategy adventure! in addicting Tradewinds Legends Game
System Requirements
OS: Windows 2000/XP/Vista/7/8
Memory: 128 MB
CPU: P500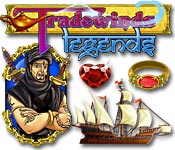 Tradewinds Legends Game Description
Get carried away in this latest installment in the acclaimed Tradewinds Series. Sail, trade and battle with legendary heroes such as Sinbad in the mythical Far East. Enter a world of danger and intrigue as you complete over 100 unique tasks. Build a flotilla of ships armed with weaponry, both man-made and magic. Sail into the sky to discover new ports and engage in aerial combat with other magical sky ships. Encounter a world of legend, play Tradewinds Legends today!
Tradewinds Legends full version features include:
Trade And Battle With Legendary Heroes!
Choose A Character Or Create Your Own
Hundreds Of Special Items
10 Amazing Ports To Visit
Tradewinds Legends Game Customer Reviews
I am an older person with a disabled hand, how often i'd had to share my love of strategy games with time management, timers. The only consolation being that they supposedly give you plenty of time, but who needs to feel rushed? I'm retired!

I've built my fleet up to an unbeatable level with the 'Tigar' even met Simbad! and took my own sweet time doing it. I discovered the Tradwinds series because of my love for trademania, and thought Tradewinds might be along the same lines, but now Tradwinds Legends is my favorite, and I've downloaded tradwinds 2 demo, will probably get them all.

- by angel2shine
Related Games
If you like Tradewinds Legends game, you may also like...