Lost in Time: The Clockwork Tower
Save the village from its frozen state! in addicting Lost in Time: The Clockwork Tower Game
System Requirements
OS: Windows XP/Vista
CPU: 1.0 GHz
RAM: 512 MB
DirectX: 9.0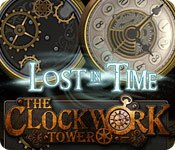 Lost in Time: The Clockwork Tower Game Description
Time grinds to a halt when the town's Clockwork Tower is disrupted. Manipulate time to save the village from its frozen state in this exciting Hidden Object Puzzle Adventure game. Explore the city and discover what makes this town so unique. Dive into the world of Lost in Time - The Clockwork Tower and fix the Clockwork Tower before the city is ruined forever!
Lost in Time: The Clockwork Tower full version features include:
Fantastic graphics
Incredible action
Save the village!
Lost in Time: The Clockwork Tower Game Customer Reviews
This is a terrific game, although it starts out kinda challenging because (for me anyway) I wasn't sure how to proceed and the Hint feature was clearly for the hidden object games (which were great!), and the clues when you clicked on the tasks were a bit vague - but once I got the hang of it I was really pleased and happy. Excellent Map feature also, love clickable links to locations. I don't like slider puzzles at all, so was happy for the no penalty Skip feature. Fun story, and yes, the characters really grew on you - very witty repartee! This game is fresh, and challenging - I'm so happy to be able to re-play some of the mini-games as often as I want to even after the game is complete, a feature I wish other games offered when the mini-games are fun. Some other games do have that feature, but it's the same mini-game as in the regular game. The type of mini-games in The clockwork Tower can have varied outcomes depending on how you move, which is cool. I bought it - I'm glad, and getting ready to play again. Big Fish has a walkthrough, which I needed for two spots. And the final four clocks game is really excellent - can't skip it, but well worth taking your time and conquering. Great Job!

- by jones
I enjoyed playing Lost in Time The Clockwork Tower. It's a good fun hidden object game and the graphics are beautiful.

- by Mary L
This is a bit of an oddball kind of game, sort of quirky, but it's got lots of charm (so far--30 Minutes?). Good voice acting (the heroine sounds a little like Olivia Newton-John), really nice graphics, smooth custom cursor, interesting storyline. The interface takes some getting used to (practice with it--you'll see what I mean), and the hint system isn't what we're normally accustomed to, either. Click on an item in the hidden-object list, and you'll be given a silhouette of the item rather than its exact spot. Keep an eye on the pocket watch--when it flashes, look around for a time-warp thingy. You'll need an extra-sharp eye for the diamonds and coal pieces scattered about, but that's part of the fun of exploring this "neato" game!

The developer is the very same one that brought us "Mishap--An Accidental Haunting" and "Mishap 2--An Intentional Haunting." I think BFG has given us a winner for the last day of the year, and I thank GZ for putting up this thread so quickly! HAPPY NEW YEAR TO EVERYBODY!

- by elldee
Related Games
If you like Lost in Time: The Clockwork Tower game, you may also like...