Turbo Pizza
Turbo Pizza is the recipe for fast family fun! in addicting Turbo Pizza Game
System Requirements
OS: Windows XP, Windows Vista
Memory: 256 MB
DirectX: 8.0 or later
CPU: P800
Video: 32MB Video Card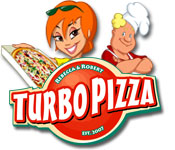 Turbo Pizza Game Description
Rebecca & Robert are avid restaurateurs ready to start their next adventure. With a secret family recipe, they can turn any dive into a pizza paradise. Help them build a successful franchise with a welcoming atmosphere, good food, and most importantly, Turbo service! This colorful and outrageous story brings excitement to fast food by working to build a successful career with a solid reputation. It's more than quick service: It's restaurant management in a fun filled environment! It's Turbo Pizza!
Turbo Pizza full version features include:
Explore 50 Challenging Levels!
Compete In Pizza Making Contests!
Earn Money For Upgrades!
Add Menu Items!
Turbo Pizza Game Customer Reviews
The turbo games are quite simply THE best time-management franchise out there. The crazy-fast pace coupled with the lightning-quick yet simple delivery of food makes for an insanely fun atmosphere in which you can easily immerse yourself in. It's really ruined me for other time-management games, since none of them can ever recapture the awesome feeling of playing the Turbo games. Two thumbs way, way up :)

- by Tropico
This game is addictive and fast paced. I played this game so much that my hand is hurting RIGHT NOW. It is a lot of fun. Once my hand stops hurting, I will go at it again.

- by chariseL
I love this game!! It's a blast to play if you like the Dine n Dash series you'll love this. I just had to join IWin so I could play all the levels. I hope this isn't the last of this series.

- by TizzieGal
Related Games
If you like Turbo Pizza game, you may also like...