Gardenscapes 2
Restore the family garden and bring it back to bloom! in addicting Gardenscapes 2 Game
System Requirements
OS: Windows XP/Windows Vista/Windows 7/Windows 8
CPU: 1.0 GHz
RAM: 1024 MB
DirectX: 9.0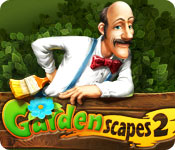 Gardenscapes 2 Game Description
Gardenscapes 2 takes the unique experience of the original Gardenscapes to a completely new level! The garden at the estate where Austin was born and grew up in is in a pitiful state. Rundown and neglected, it is waiting for you to come and restore it! Accompany Austin to the place of his childhood, meet his parents, and collect the old photos and other memorable things from his past. Run sales of the old stuff found around the house to implement the original decor ideas of your own! Help your good old friend bring the family garden to bloom again in this brand new hit from Playrix!
Gardenscapes 2 full version features include:
80+ HO levels
60 outdoor decor items!
Customizable 3D characters!
Complete a family photo album
Gardenscapes 2 Game Customer Reviews
While the Gardenscapes series will never be among my favorite hidden object games, they provide a lot entertainment for what they are, and this one is no exception. Austin and his family are like old friends, and you want to help him fix up whatever it happens to be. This time it's his parent's garden, which has long since fallen into neglect. So, once again, you help with the sales to earn enough money to fix up the garden. These are straight HO scenes. I would like them better if some objects were hidden or needed two steps to complete, but they don't. The colors are bright, and the graphics, while not as crisp as I would like, are fine. What keeps you going, of course, is the opportunity to spruce up the garden. I also liked the extra touch of the photos of Austin as a youngster. You almost feel like a family friend. A good game for kids as well.

- by Cat_In_RV
I loved Gardenscapes 1 and 2 and Mansion Makeover. Austin and the dog are so cute, and I really liked that Austin's parents were included in this one. It's so much fun earning the money and choosing my own designs. I loved that Austin played the guitar a few times in this game. It is refreshing to have games of this type instead of the "dark side" games for a change. I wish there were more of this type. Recommend this game highly.

- by Lorepetalum
I love all the Gardenscapes, Barn Yarn, and Mansion Makeover games from Playrix. It's always fun to see what Austin and the other characters will say and do, and of course it is fun to refurbish your garden, mansion, barn, or whatever. The game is not difficult, but also not too easy. All of these games are just so much fun, and have excellent replay options. I highly recommend this one!

- by SMAtxn01
Gardenscapes 2 is very similar to Gardenscapes, except this time you are fixing up Aiden's parents' estate. Your dog is also back -- once you buy the doghouse, you can name him and Aiden will play with him. This game also has Relaxed Mode, and Sparkle Hints which you can turn on via the options menu, although it takes a while before anything "sparkles". You find extra hints when you find the question marks. You also are helped by a magnifying glass, a camera and thermometer, all of which help you quickly find items you are looking for. One difference is, you sometimes have to fix up a room before you can have a sale in it -- hang up a shelf, replace a leg on a cabinet, fix a railing. Another new item is a picture album that stores pictures of Aiden's early life -- quite a nice touch. I love these games, so I bought it right away! A nice, mindless change from all the adventure games.

- by MSBAM100
Easy to get into and even easier to fall for, Gardenscapes 2 is a lighthearted mixture of item finding and time management set in a pleasant world filled sunshine and chirping birds. Nothing is unfairly hidden in the hidden object scenes, and there are just enough extras in the collector's edition to make it worth a look.

- by John Anthony
Related Games
If you like Gardenscapes 2 game, you may also like...