Virtual Villagers 4: The Tree of Life
Unravel the story of Isola and save the Tree of Life! in addicting Virtual Villagers 4: The Tree of Life Game
System Requirements
OS: Windows XP/Vista
Memory: 512 MB
DirectX: 7.0
CPU: 800 mhz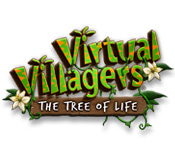 Virtual Villagers 4: The Tree of Life Game Description
The latest chapter in the Virtual Villagers saga! Continue the story of the mysterious island of Isola, and the tribe of lost refugees! The island's chief is worried that life is slowly diminishing on the island and has selected a tribe of explorers to find the source of Isola's troubles. They discover, and inevitably populate, the hidden eastern shore of the island. Uncover fantastic mysteries, unravel the story of Isola, and save the Tree of Life!
Virtual Villagers 4: The Tree of Life full version features include:
Create Custom Tribes!
New Puzzles, Collectibles, And Island Events!
Real-Time Weather!
Real-Time Gameplay!
Virtual Villagers 4: The Tree of Life Game Customer Reviews
i loved this game much better than the last 3 it has better sound because it fit the game better than the others,i really liked the graphics i was impressed because they were so cute and clear and the gameplay was better because u can build huts where ever u want the people learn skills faster u can pick the people u start with and the story was exciting this is a must own and it comes with two games in one which is why im giving it all five stars

- by Chloehearts2
I really enjoy this series. I have been anticipating the release and when it came out was tempted to pay full price for the Developer's Version. I was blessed to win on of the copies that Gamezebo was giving away, so I got it for free. However, I have almost finished it, and I would probably pay the full amount for it. It is a really nice game! I like the face that I could figure things out without needing to consult a walkthrough at every step. I did use the strategy guide that it came with and a walkthrough occasionally thought when I was stuck. The only I found to be frustrating was my game would crash occasionally, but I think that was probably because I was collecting so many mushrooms and collectibles using the space bar method to get to of each. :) Overall I would rate this as a top notch game and am excited to get the next one! I hope it isn't as long before VV5 comes out. Especially as long as the break was in between VV3 and VV4, but I don't want to rush them because then we end up with glitchy and cheesy games, so hopefully balance with be there. :)

- by sunfluer__7
Absolutely charming! The artwork is spectacular. The tasks range from simple to complex. This is a gem of a game. It seems as if nothing but hidden object games are being produced these days. It is so nice to see someone put so much love and attention to detail into something a little bit different. I loved it.

- by eketelsen3
Related Games
If you like Virtual Villagers 4: The Tree of Life game, you may also like...