Create A Mall
Design and build amazing shopping malls! in addicting Create A Mall Game
System Requirements
Windows Vista, XP
Pentium/AMD 1.5 GHz or faster processor
512 MB RAM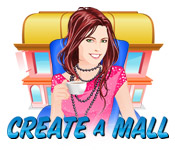 Create A Mall Game Description
Develop your own exciting malls with Kellie! Use your strategy and shopping experience to select which stores to build and which to upgrade in order to attract more customers and earn more money! Manage your resources: hire workers, purchase materials, and build more stores, entertainment locations and mall enhancements. You can even purchase clothing, jewelry and office decorations for Kellie. Let the shopping begin!
Create A Mall full version features include:
Six different cities full of shopping malls
Twenty-two varieties of stores
Nine store types that offer shopping opportunities
More than 40 medals and trophies to earn
Create A Mall Game Customer Reviews
I really enjoyed this time-management game. It was fun choosing the shops to place in the mall. ...I gave this game 5 stars because it has just enough content to keep the gamer happy, without getting bored. Hope you enjoy this game as much as I did. I recommend buying it, so there is enough time to play the whole game; this game has an excellent re-play value, too! Try to manage the gamers time better for a higher score, and a 5-Star Mall rating!

- by chrystinah5
All the fun of Build-a-Lot without the stigma of being a real estate flipper. I'd much rather be designing malls.

- by BTGameFan
overall the game was great, it keeps you pretty well entertained, but you do the same things over and over on each level it doesnt really change, its 100% like the build-alot games, not much of a difference at all.

- by lil_sammy1991
Related Games
If you like Create A Mall game, you may also like...