Vogue Tales
One of the most stylish time management games ever! in addicting Vogue Tales Game
System Requirements
OS: Windows 2000/XP/Vista
Memory: 256 MB
DirectX: 8.1 or later
CPU: P700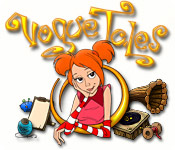 Vogue Tales Game Description
Little Wendy was keeping her own small fashion house. Her life had been quiet until she got a present from her grandma. A sinister thief stole the box and Wendy's favorite dummy. Now Wendy has to earn enough money for a ticket so she can chase down the thief! Travel around Europe, improve your fashion skills, and find your present (and your favorite dummy) in the most colorful, stylish and fashionable time management game ever!
Vogue Tales full version features include:
Fashionable Dresses And Costumes To Make!
4 Glamorous Cities To Visit!
40 Stylish Levels To Master!
Funny And Intriguing Storyline!
Vogue Tales Game Customer Reviews
Every other clothing maker game I've played there were times when I sat around for seconds doing nothing because I couldn't do anything, no matter how many machines I had, no matter how many speed upgrades it was never enough. Not this one, there are no speed upgrades all the machines run at just the right speed from the very beginning. This is the first clothing game I've ever even considered buying.

Even if you don't like the other clothing maker games try this one out, and if you do like clothing makers definitely try this one.

- by cnw002
I loved this game! Many games similar to it like Dinerdash, etc. get really fast paced and overwhelming to the point they aren't fun anymore. This one isn't like that. It builds up slowly, and allows you to buy upgrades that increase people's patience, etc.

- by qwertyextraone
Related Games
If you like Vogue Tales game, you may also like...