Nanny Mania 2
The sequel to the number one hit puts you in the middle of a celebrity family in addicting Nanny Mania 2 Game
System Requirements
OS: Windows ME/2000/XP/Vista
Processor: 800 MHz
Memory: 128 MB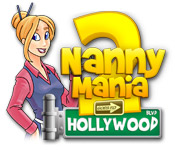 Nanny Mania 2 Game Description
Nanny Mania is back with a brand new adventure in Nanny Mania 2: Hollywood! Nanny goes to Hollywood and brings you into the lifestyles of the rich and famous. In Hollywood, being a stay at home mom is a lot of work. Have you got the skills to take care of the house, the kids, and the egos all while keeping the paparazzi at bay? Why not give it a try in Nanny Mania 2: Hollywood?
Nanny Mania 2 full version features include:
New time outs, pets, and much more
Help this celebrity family grow
Watch out for kid tantrums
All new store for upgrades
Nanny Mania 2 Game Customer Reviews
This was a great game. I really loved the first one, and I think maybe this one was a little too close to it. With that aside, it was a great game. I loved the story line. I wish my trial was not up.

- by hnstafford
it was great!! it was very amusing seeing the new houses and trying to deal with the papparazi. I rate this 10/10 for perfection. When is nanny mania 3 coming out?

- by cupcakefun
What a fantastic game! We've all played Nanny Mania 1 before, where you work at the mayor's house. In Nanny Mania 2, you play as Emma again, but this time, you work at a celebrity mom's house! Sure, you still have to dash around grabbing laundry and warming bottles for the babies, but this time you actually go to new houses! You also must deal with pets. Fish dirty up the aquarium, while dogs leave nasty surprises on the rug!...

- by cheetahbenreturns
Related Games
If you like Nanny Mania 2 game, you may also like...