Westward II: Heroes of the Frontier
Work to bring the elusive Copperhead Gang to justice! in addicting Westward II: Heroes of the Frontier Game
System Requirements
OS: Windows Vista, Windows XP
Memory: 512 MB
DirectX: 9.0 or later
CPU: P 1.0GHz
Video: 32MB 3D Hardware Accelerated Video Card
Internet: Active Internet Connection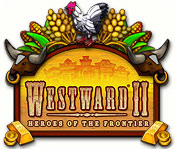 Westward II: Heroes of the Frontier Game Description
After the settlement of Hope River is destroyed, fleeing residents deliver news of a devastating attack by the Mad Russian, a treacherous villain bent on stopping any further expansion. Steer the fortunes of three distinctly different pioneers as they establish a new outpost in the unexplored Wild West, and work to uncover the Mad Russian's base of operations. Gather resources, overcome natural disasters and plot a course through new terrain as you guide your settlers to safety and success!
Westward II: Heroes of the Frontier full version features include:
Bring The Copperhead Gang To Justice!
Over 20 Unique Buildings!
Awards For In-Game Accomplishments!
All-New Sandbox Mode!
Westward II: Heroes of the Frontier Game Customer Reviews
This game blew me away!!! I really enjoyed it!! The different characters and scenarios was awesome..it even made the music bearable...lol..I'm jus kidding, the music was a traditional country theme..it reminded me of the an old western!!! Loved it!! It was brilliant watching my own little town develop!! I felt so proud!! lol!!! I recommend for all to try it out or better yet, buy the game!!! Thanx for an awesome game!!

- by Palpitate
Westward is one of my all time favorite games and Westward 2 Heroes of the Frontier takes it to a new level.. Westward 2 has some nice new touches, it's funny, the characters are a real hoot and Westward 2 is very challenging. Great game!

- by K man
This game is tougher than the first one. For all those who wanted a more challenging experience, this is it. You may choose among one of three heroes, each of whom has a unique bonus to employ during your quest. Buildings and upgrades must usually be purchased in order to build your settlement. There are plenty of quests and the natural disasters plus "bad guys" are all there to add to the fun. The graphics are great on this game. Special bonuses are offered too for those who want a little extra. A great experience that can be frustrating and rewarding at the same time.

- by Trillium
Related Games
If you like Westward II: Heroes of the Frontier game, you may also like...