Plants vs Zombies
Mow down the undead with a variety of zombie-zapping plants. in addicting Plants vs Zombies Game
System Requirements
OS: Windows XP/Vista
Memory: 512 MB
DirectX: 8
CPU: 1.2Ghz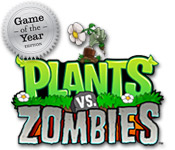 Plants vs Zombies Game Description
Get ready to soil your plants! A mob of fun-loving zombies are invading your home, and your only defense is your arsenal of 49 zombie-zapping plants. Use peashooters, wall-nuts, cherry bombs and more to slow down, confuse, weaken and mulchify 26 types of zombies before they can reach your front door. As you battle the fun-dead, obstacles like a setting sun, creeping fog and a swimming pool add to the challenge. And with five game modes to dig into, the fun never dies!
Plants vs Zombies full version features include:
Play Five Game Modes!
Browse Crazy Dave's Shop For Special Plants And Tools!
Battle 26 Types Of Zombies!
Never The Same Game Experience Twice!
Plants vs Zombies Game Customer Reviews
As soon as I tried this game, I knew I had to have it. It is fun, funny, and different. I have been playing it for days, and have yet to be bored. The game play really is addictive. I have found that it is a mistake to play while other things need my partial attention, because I get so caught up, I lose track of time, and everything around me. That is a hallmark of a successful game for me. I don't normally play this type of game (if ever). I usually play HOGs, with some match-three and word games in the mix. If you think PvZ might not be your cup of tea, try it and you may be pleasantly surprised. In addition to interesting, challenging, and oft-changing game play, the pop-culture references (Michael Jackson's 'Thriller', anyone?) and humor of the game just add to its appeal.

- by catsrnice
This is one of the most addicting and creative games I've played in a long time! I love the different types of zombies, plants, and mini games. Overall GREAT game!!

- by brenissa55
This game is wonderful. Tons of replay value, mini games, puzzles, a zen garden a ton of stuff to unlock and buy. In my top 5 for the year.

- by plushpuppy
Related Games
If you like Plants vs Zombies game, you may also like...