The Hidden Object Show
Ever dreamed of becoming a millionaire? in addicting The Hidden Object Show Game
System Requirements
OS: Windows XP/Vista
Memory: 64 MB
DirectX: 8.0 or later
CPU: P2 400
Video: 16MB Video Card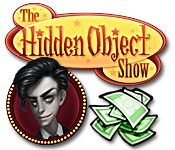 The Hidden Object Show Game Description
It's time for The Hidden Object Show! Yes, we not only offer you 11 challenging game modes, but an amazing 330 rounds of gameplay that will keep the whole family entertained for days! Visit the set of an abandoned movie studio where you'll compete on a quirky game show, annoying host and all! You'll be given a series of challenging assignments and, if you are successful, you'll win great prizes as well as have the ultimate shot at 5 million dollars! Do you have the skills to be the best?
The Hidden Object Show full version features include:
Become A Virtual Millionaire!
330 Object Finding Rounds!
Cool Prizes To Collect!
30 Captivating Scenes!
The Hidden Object Show Game Customer Reviews
This is a great, refreashing hidden object game! What's best is that it's quick between screens and the games are fun too! You're not stuck with the same game inbetween rooms, it's a neat concept. It takes a while to finish it and when we did, we started right back over again. Highly recommended!

- by cspmbs
I liked the variety of puzzle variations in this game. It is definitely more than just a regular seek and find type of a game. The sound was good and graphics was just barely good enough to recognize objects. Some objects, could not be seen without 20/20 vision because of their size, shape, color, and their lack of 3D characteristics and that is where the hint feature comes in handy. In spite of its minor sound and video imperfections it is still a very entertaining game. The game announcer himself was a very entertaining character who looked and spoke the same way as someone that I knew in the past.

- by hulayak
Related Games
If you like The Hidden Object Show game, you may also like...