Royal Jigsaw 3
In Royal Jigsaw 3, choose between 1000 beautiful, high quality images! in addicting Royal Jigsaw 3 Game
System Requirements
OS: Windows XP/Windows Vista/Windows 7/Windows 8
CPU: 1.0 GHz
RAM: 512 MB
DirectX: 9.0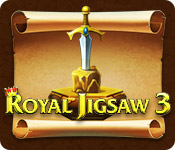 Royal Jigsaw 3 Game Description
Check out the new King Size Jigsaw! In the latest installment of the Royal Jigsaw series, choose between 1000 different high quality puzzles! Enjoy the well designed gameplay you've come to expect from the Royal Jigsaw games. Use helpful tools and other hints to guide you. Adjust the game difficulty to give yourself the challenge you're looking for. Record your accomplishments by earning achievements and trophies along your way. Inside you'll find 4 boxes full of real royal atmosphere as well as luxury decorations, beautiful landscapes, famous antiques, vintage jewelry and magnificent castles... All the best for true king!
Royal Jigsaw 3 full version features include:
Choose between 1000 high quality images
No time limits - play as long as you want
Earn achievements and trophies on your way
Try the original Royal Jigsaw
Royal Jigsaw 3 Game Customer Reviews
Another great Royal Jigsaw, with 4 boxes containing 250 puzzles each for a total of 1000 puzzles ranging from 12-280 pieces! These are gorgeous pictures of castles from around the world, knights in shining armor, antiques, jewelry, landscapes, horses, swans, and royal people, a puzzle to please just about every puzzle geek out there! These puzzles have a unique option that allows you to "modify" any puzzle, you can choose the cut of the puzzle from straight pieces to slanted, you can choose how many pieces from 12-280 and whether the pieces can be rotated or not. There are 7 different categories for trophies (multiple awards in each category) Each puzzle has a box in the top left which allows you to store some of the puzzle pieces to give you more room, Each puzzle has options such as showing the image of the picture at x1, x2, or x3, or you can ghost the image on the background which also has the option of pale green, blue, pink or yellow backgrounds. You can choose the border pieces only and when the border is complete, the rest of the pieces will automatically appear and those pieces can be sorted automatically. There is also a hint button and a magnifying glass feature so get your Royal Geek on and put together a virtual puzzle, enjoy!

- by pennmom36
Related Games
If you like Royal Jigsaw 3 game, you may also like...