Youda Survivor
Take off on an incredible adventure! in addicting Youda Survivor Game
System Requirements
OS: Windows XP/Vista
CPU: 3.0 GHz
RAM: 1280 MB
DirectX: 9.1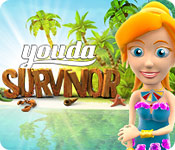 Youda Survivor Game Description
Ever dreamed of living on your own little island, being a real Robinson Crusoe? Now here is your chance! In Youda Survivor you end up on a hilarious and mysterious island, with only the most minimal tools to survive. What will it take to get you of this island? It's up to you to get it all together and finally get back to the main land in this fast-paced and fun Time Management game!
Youda Survivor full version features include:
Fast-paced action
Exciting adventure
Survive a deserted island!
Youda Survivor Game Customer Reviews
I absolutely adored this game! The approach is the same as the Farm Frenzy series, but Youda puts its own spin on it by tying it to a narrative - a legend foretells the arrival of a stranger who'll rescue the island. So our hero arrives on the island only to discover that he first has to prove himself as the foretold rescuer. How he does that makes up the game dynamics.

Between making potions to revive yourself, making sure you don't get dehydrated, diving for shrimp, invoking rain, or sometimes, coconuts, digging enough wells to attract seagulls, collecting their eggs, and making boiled eggs and coconut powder, there is plenty to keep you busy.

Game graphics are cute and whimsical and music works. What more could one want in an engaging and fun game.

- by Ananthanarayanan
Adorable great graphics fun great voice over in this time management game. I am shocked that I like a time management game I think this is the first I have purchased. My favorite parts of the game is the voice over done well, beautiful graphics, great interaction because there is so much to do it doesn't get boring. At the store you buy upgrades or unlock a new item. I played the demo and before demo was through I knew I had to buy the game. This appears to be a long game. Another bonus is depending how quick you finish task list your rated either gold, silver or bronze. The best part is you can always restart any level to upgrade your rank so the game can always be replayed. BFG has another 5 star game congrats to the game designers. I also enjoy the different characters in the game.

- by sherryah
Fun game - it's sort of similar to Farm Frenzy but in a different setting and with unique things to do. You are given various goals each level - some are similar to Farm Frenzy in that you must use machines to make new products. Also, you have various rituals you perform to cause things like rain (replenish the water supplies) or wind (makes coconuts fall). All the while, you must keep an eye on your dehydration and stamina. Each task that you performs costs you stamina. There are regular visits by pirates who will try to steal your goods. You must fight them off WHILE playing out your levels. When you defeat them, they drop goods and run off. There are all sorts of awards/achievements you can win as well as upgrades you can buy. Game seems like it will have more than adequate length from the look of the map, considering how far I got in an hour's time. Loved the game after playing the demo and purchased right away. An interesting, unique & challenging TM game.

- by Lisa522
Related Games
If you like Youda Survivor game, you may also like...