ZenGems
Solve the puzzles, recover the Medallions, save the Temple! in addicting ZenGems Game
System Requirements
OS: Windows 2000, Windows XP, Windows Vista
Memory: 256 MB
DirectX: 8.0 or later
CPU: P3 800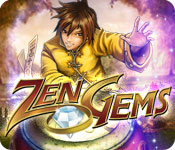 ZenGems Game Description
Master the Gems, Discover Zen! Quick thinking and clever strategy gets you through the many devious puzzles as Hoshiko seeks the Medallions of Virtue to save his Grandfather's temple. Unlock captivating new worlds while discovering magical power-ups and exciting shoot-and-match gameplay strategies. Master ColorBursts, EnergyBalls, PusherBalls and more in Arcade Mode, then follow Hoshiko into an exciting Adventure across 13 mystical worlds!
ZenGems full version features include:
Master The Gems!
Play Arcade, Adventure Or Survival Mode!
Collect Amazing Power-Ups!
Discover 13 Mystical Asian Worlds!
ZenGems Game Customer Reviews
i dont know about other but i found this game very engrossing.. once i started playin i didnt want to stop..lol

- by chickee420@ff
ZenGems is a unique matching game. Its various levels and challenges are much more interesting for long-term play than Gem Shop, Atlantis, etc. In addition to matching like colors, there are challenges to move gems through various mazes to clear boards. Plus there are three variations so it doesn't become redundant quickly likely many one-dimensional puzzle games. SKIP the story slides, though -- the scripting is very weak. Stick with the game itself.

- by S. Levine
this game looks alike boys game but hey this game can be play for every body and every ages . i like the music and the bakcground of a place alike chinatown. but its more fun to play and enjoy youre long day. i like this game cause you can throw alot of fireballs and even its easy to learn and even you can beat ever levels and even get bonus . if you loose first time then you get second chance to play . i would like see games alike this one .

- by statecalifornia2009
Related Games
If you like ZenGems game, you may also like...