Flower Paradise
Build your perfect flower garden! in addicting Flower Paradise Game
System Requirements
OS: Windows 2000, Windows XP, Windows Vista
Memory: 512 MB
DirectX: 9
CPU: 1GHZ
Video: 32MB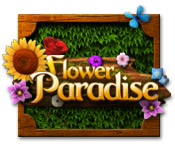 Flower Paradise Game Description
Paradise awaits in this fun filled flower matching game! Match 18 unique flower types as you build your own Japanese, Hawaiian and French gardens. Play traditional Match 3 puzzles or try the innovative Box Clear Mode! Customize your gardens with birds, butterflies, landscaping and more as you unlock new flowers and features. Once you have your garden exactly the way you like it, you can turn it into wallpaper for your desktop, or even an animated screensaver!
Flower Paradise full version features include:
250 Puzzles To Solve!
Three Gardens To Customize!
9 Trophies To Unlock!
Beautiful Garden Wallpaper And Screensaver!
Flower Paradise Game Customer Reviews
Call me a pansie, no pun intended, but I can honestly say that this is the most enjoyable match game I have played in a long time. I purchased it earlier today. The game is extremely peaceful and provides me with moments of zen while having a level of challenge that makes me pay attention, but is not stressful. For those who love no timers, you can choose not to have one. I also take pleasure in getting the gardens from bronze to gold and watching them progress.

- by carfixer1957
Beautiful and relaxing match 3. The only problem I saw in beta has been fixed, so it plays even better. Creating a garden is lovely fun. Very pleasant sound effects, music not bad, over all enjoyable game.

- by Medbie
Flower Paradise is such a soothing and tranquil match-3 game. It reminds me a lot of the first Fishdom. But this isnt as much about challenge as it is about atmosphere. The match-3 portion of Fishdom was harder, but I prefer the untimed option that gives Flower Paradise an edge in that respect. Decorating a fish tank is more unique, so Fishdom scores higher there. But I love the graphics for Flower Paradise. It feels like youre really in a botanical garden. ...

- by gamezchick
Related Games
If you like Flower Paradise game, you may also like...