Agatha Christie: 4:50 from Paddington
All aboard...for murder! in addicting Agatha Christie: 4:50 from Paddington Game
System Requirements
OS: Windows XP/Vista/7/8
CPU: 1.0 GHz
RAM: 512 MB
DirectX: 9.0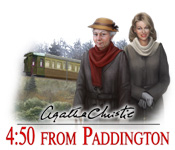 Agatha Christie: 4:50 from Paddington Game Description
While traveling through the English countryside, Elspeth McGillicuddy witnesses a frightful event through the window of a passing train: murder! With little evidence, no one will believe her. No one, that is, except her good friend, and amateur detective, Miss Jane Marple. Join the celebrated sleuth on a Hidden Object hunt for the truth about what Mrs. Gillicuddy saw that fateful night in Agatha Christie 4:50 from Paddington!
Agatha Christie: 4:50 from Paddington full version features include:
Stunning locations
Find clever clues
Find the murderer!
Agatha Christie: 4:50 from Paddington Game Customer Reviews
Although I like all Agatha Christie-games thisone I like still more. The graphics are clear like in all their games and really detailed and affectionated so you feel the atmosphere. I really admire how they made it that I think you also know what's going on if you do not know the story like me (I own nearly all books of A.C.). You can play timed or untimed. You have also to find keywords in every scene and have to locate the places for yourselves, what I find a nice variation. It doesn't thrill me like an interactive HOG but that is not necessary :-). A really good game.

PS: The game is pretty long and really not difficult. Objects are good to find.

- by sy99
I Liked this game as I did the others. Very fun to play. Some of the items were hard to find but it makes it more challenging. The only thing I did notice is that you only get 59 opals when most others you get 118 opals. Other than that it is a great game. I do agree with the others that the price is unreasonable. Would buy but to expensive. Love the game

- by jminn
Related Games
If you like Agatha Christie: 4:50 from Paddington game, you may also like...