All My Gods
Become a mighty god! in addicting All My Gods Game
System Requirements
OS: Windows XP/Vista/Win7
CPU: 1.2 GHz
RAM: 512 MB
DirectX: 9.0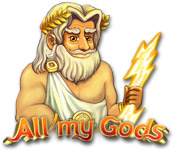 All My Gods Game Description
Lead Saturn's son to the top of the Pantheon and help him become a mighty god in All My Gods! When Saturn decides to retire, he wants his son to take his place. The council of the gods respectfully accepts his will and welcomes an heir to take Saturn's place on one condition: He has to prove that he is worthy of their trust and divine powers he is about to receive. Outsmart the other gods who would try to stop you in All My Gods, an incredible Strategy game!
All My Gods full version features include:
Prove yourself worthy of being a Roman god in this fun Simulation game
Use incredible powers
Help them prosper by guiding them to build structures, harvest bounties, and more
Become a mighty god!
All My Gods Game Customer Reviews
I liked this game. I downloaded it without trying it anywhere else. Its a build game. There are no levels. You pretty much build a town from the ground up. Based in like Greek mythology. If you save up enough materials you can learn new skills. Everything from building roads to raising cattle. It takes a few moments when you 1st start but I say, Give this game a chance. it works wells. Graphics are nice. Music is cool.

- by strangio23
Love this game. Love time management games and this one does not disappoint. Lots of different goals and that's always good. I will be getting this one. I don't like to feel rushed and like to read the stories and concentrate on the goals. One hour is just not enough for time management game lovers.

- by sallie1011
I'd class this more as a strategy than a T/M but still well worth polaying. It's a bit like Civilisation in some respects or one of the tribe games. You have to build up a town and pick up Godly powers along the way to help you. You have to collect resources and also knowledge to unlock new buildings. Gameplay is nicely paced and the tutorial leads you in nicely. The best thing is it's all access!!

- by neiljennie
This is a combination of a "god game" (used to be very popular) and a city sim/builder. It's enjoyable, and the interface/instructions are clear and easy to understand. It is suitable for all ages.

The goals are straight forward and not stressful. Some optional tasks are timed..

You need to clear land in order to build. Once you have placed buildings, you can move them later (thumbs up!). The game is 2D and you can't change the camera angle or zoom in and out. The tutorial elements are not skippable (that I could see) but are subtle and guide you into your tasks gradually so you don't get overwhelmed.

If you enjoy building games and/or city sims, it's worth a try. It's not overly challenging (at least so far) but it's definitely fun and I can see myself spending a few quiet evenings on this.

- by Poem123
Reminiscent of "The Settlers" series, but with a Roman theme, this simulation is a fun variation for a casual game market that's become too saturated with Time Management games.

- by Brentnor
Related Games
If you like All My Gods game, you may also like...