My Farm Life 2
Run a rooftop farm! in addicting My Farm Life 2 Game
System Requirements
OS: Windows XP/Vista/8
CPU: 1.0 GHz
RAM: 512 MB
DirectX: 9.0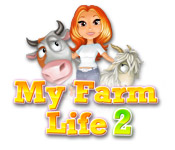 My Farm Life 2 Game Description
Farm games have never hit these heights before like in the modern casual game My Farm Life 2. There are 60 wonderful episodes where you can grow crops, milk cows and produce different goods. Take care of domestic animals and get to know how to make hot sauce, tasty jam and croissants. Try to improve your production by hiring more helpers and upgrading your old machines. Do you manage to make your farm the best one in the city? Download My Farm Life 2 absolutely for free to take part in the most challenging gameplay.
My Farm Life 2 full version features include:
150 levels
38 trophies
Tackle the unique challenges!
Unlock 35 new and hilarious achievements.
My Farm Life 2 Game Customer Reviews
Thankyou for another fantastic farming/ time management game. I also bought this game without trying, as I knew I would love it.

- by donnaknight10
I enjoy this one more than the first one. Yes, the gameplay and concept Is still the same with new buildings, new helpers and many cool new features. I think the day and night option is gone.but this time you will have ability to sell crops to Carlos to earn extra money. The game seems really long to, featured 50 levels in three modes (Normal, Expert & Relaxed) but you need to complete first ten episodes in normal mode first to unlock another two modes (which is basically tutorial). Graphics and music are great, story is creative and fun.

- by TeamSD
Finally Lisa is back. I loved Farm Life 1 and now part 2. This one is great and more challenging than the first. Keep on bringing out these games.

- by firestar74
Let's see...Stunning visuals, smooth gameplay, 40 hours to finish for completionists who want to earn all trophies and complete 150 levels. If you like time management games, what's there not to like?

The hugest double standard is that nobody mentions in the reviews that the eerie hidden object games where you simply click on items, play the same types of mini games, and find out how the items interact with each other are "getting tired". On top of that, most of these games take 3-6 hours to complete, and they come out in droves.

In a dying genre caused by the Bigfish Empire and their refusal to try anything new, it's wonderful to experience such a fantastic farming game.

PS- For people who can't stand fast paced games with a timer, there is a 50 level relaxed mode with no timer.

- by carfixer1957
Related Games
If you like My Farm Life 2 game, you may also like...