Annabel
Ancient Egyptian magic resurfaces anew. in addicting Annabel Game
System Requirements
OS: Windows XP/Vista/7/8
CPU: 600 Mhz
RAM: 256 MB
DirectX: 8.1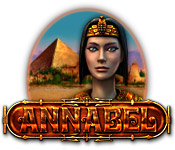 Annabel Game Description
While exploring a museum in Egypt, Annabel stumbles upon an ancient curse that claims an innocent victim every ten years, and she may be next. Relive the struggle of an ancient Egyptian princess that fought against all odds to be with the man she loved. Only your wits can overcome the devious puzzles and magical traps set by her enemies. Could Annabel be the reincarnation of that ancient princess, still threatened by a curse that has chased her for millennia?
Annabel full version features include:
An adventure of epic scope
Switch from past to present
Truly devious mini games
Annabel Game Customer Reviews
This is my NEW favorite game! I did not have the dizziness problems others describe. The game has a good story and the trial version only leaves you wanting more. Loved the graphics, the puzzles were fun, not too hard. Must have been a glitch in the system but my 60 mintute free trial lasted almost 2 hours! My only complaint about this game would be the repeat visits to previously played areas, it got kind of tedious. All in all, a really entertaining game!

- by TuckerToo
The graphics, puzzles in this game were good. It did not take long to complete this game. I finished it after playing a few hours on two days. I really liked the game, but it was to short.

- by cinjl1958
I really loved this game but about 20 minutes into the game I got queasy. If your used to motion action games you will love this, otherwise you will probably get sick to your stomach as well. I am sad.

- by jlea4win
Related Games
If you like Annabel game, you may also like...