The Island: Castaway 2
Discover The Island's past! in addicting The Island: Castaway 2 Game
System Requirements
OS: Windows XP/Vista/Win7
CPU: 1.0 GHz
RAM: 1024 MB
DirectX: 8.0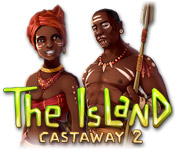 The Island: Castaway 2 Game Description
Discover The Island's past as you travel back in time! Explore the familiar paths and take on new quests in The Island: Castaway 2! Find out why the tribe left the old village, discover what the Sanctuary looked like, and learn how the ship appeared right in the Heart of the Island in this incredible Strategy game. Become one of the tribesmen and learn all of the tribe's secrets as you overcome obstacles and save the day in The Island: Castaway 2!
The Island: Castaway 2 full version features include:
Travel back in time
Become a tribesman
Discover The Island's past!
The Island: Castaway 2 Game Customer Reviews
I think this is a GREAT game! When I saw it appear, I couldn't remember if I played the original "The Island - Castaway". So I decided to download the original and play it first. I quickly realized I HAD played it, but it seemed like it was loooooooong ago, as I had forgotten much. So I played the original first, to the end. I'm GLAD I did - THEN, I slipped seamlessly into this new "The Island Castaway - 2". LOVED IT! Just finished a few minutes ago. I really get into this kind of game. YESSSS, there's a lot of simple hunting and gathering, but I don't mind that. You hunt and gather, and then sell all that stuff to get the things you really need to move forward in the game. I totally enjoyed the storyline. Kept me interested. NOW, I am anxiously looking forward to "The Island - Castaway - 3"!!! WHAT HAPPENS TO THE ORIGINAL SHIPWRECKED CREW?? The last we saw them, they were hoping to be rescued by the big ship, but were feeling something is wrong. PLEEEEASE don't take toooo long to come out with the next chapter!!! Thank You!!

- by Songbird2
I Beta'd this a long time ago and then bought it before now. If you haven't played the 1st game in this series it's ok because this chapter deals with the "before". I highly recommend you get this game if you want hours of pure fun. You'll travel the island to make discoveries with your crew but you'll never get lost. The characters, storyline and play will have you laughing and alway's going back for more. It's also a great replay game as is the first. Enjoy!

- by honeyg412
I really love this game - it's a sim game and it's not usually a game genre that I am drawn to but I have played The Island Castaway and I truly enjoyed. This adventure is just as much fun. The graphics are beautiful and the music works. A well done production. I highly recommend a download and then a BUY! Happy Gaming!

- by Bunyflufy
Even better than the first one! This is a great game, yes there is a lot of running around picking up stuff, but there is a great storyline, and lots of new characters and tasks. It follows on extremely well from the first one. It does run a little bit slow on my computer, but that doesnt bother me too much. Music is pleasant although I dont have it up too loud, however the accents of some of the characters are a bit naff! There are lots of trophies to win and rarities to collect, and overall I think this is a winner. Enjoy!!

- by panic303
Better than the first. It plays like Wandering Willows. There is a point where running back and forth gets tedious, and it would be nice if there were hot keys in order to eat food instead of opening the inventory. But it's different than 97% of the games we normally get. Very good, I hope the 3rd game comes out soon.

- by amaven
Related Games
If you like The Island: Castaway 2 game, you may also like...