Avernum IV
Experience an epic fantasy role-playing adventure! in addicting Avernum IV Game
System Requirements
OS: Windows 2000, Windows XP, Windows 2003, Windows Vista
Memory: 64 MB
DirectX: 5.0 or later
CPU: P500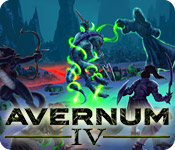 Avernum IV Game Description
Experience an epic fantasy role-playing adventure at its finest, with a variety of dungeons, hundreds of quests, and a fascinating story, with many twists and turns! Traverse the enormous underworld nation of Avernum, whose shadowy lands are facing horrible peril. Only you can keep your homeland from sliding into anarchy. Fight cunning foes, search for hundreds of magical artifacts, and save your homeland from destruction, before everything falls apart!
Avernum IV full version features include:
A Gigantic World To Explore!
Hundreds Of Quests!
Epic Story With Many Twists And Turns!
Multitudes Of Characters!
Avernum IV Game Customer Reviews
Avernum 4, the recently released RPG from Spiderweb Software revisits the underground caverns of the Exile and Avernum series, but unlike previous Avernum games has an entirely new plot and significantly updated gameplay. Although like past Spiderweb titles Avernum 4 may not be for everyone, its strong writing and plot, expansive world, and classic RPG design are definitely worth trying.

Despite the fact that Avernum 4 is slightly less replayable than the Geneforge games, it is still a great value when you consider the sheer length of the game's story and its sprawling world. This is a without a doubt a top-notch role playing game, albeit one with some small annoyances, and I highly recommend it to any role playing fan.

- by Ian Beck
Terrific fun, and superb value for money. I think somewhere along the line the graphics have been improved since they used to use 640x480. I did rather miss the dynamic plot of Avernum 3 and the scale of journeys between towns seemed a bit off, but the plot and gameplay is as ever, excellent.

- by alxvy
I think a number of people are still waiting for improved graphics from Spiderweb Software, and some people may find themselves looking for something new. Still, as always, fans of previous titles will find yet another game to add to their libraries. New players may be pleasantly surprised by what they find, too.

- by Gianfranco Berardi
Related Games
If you like Avernum IV game, you may also like...