Virtual Families
A casual family sim that runs in real time! in addicting Virtual Families Game
System Requirements
OS: Windows XP/Vista
Memory: 96 MB
DirectX: 7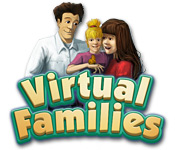 Virtual Families Game Description
Virtual Families is a casual family sim that runs in real time! Adopt and nurture needy people on your computer and help them meet mates, and start families! Help shape the personalities of the people you adopt through praising and scolding, and then pass on the house to the next generation. From the developer of the smash-hit Virtual Villagers series comes the new casual game that captures the drama of life... Virtual Families!
Virtual Families full version features include:
Fully Trainable People!
Dynamic Illness System...Play Doctor!
Over 100 Trophies To Earn!
Game Day/Night Cycles Tuned To Wherever YOU Are!
Virtual Families Game Customer Reviews
I enjoy this game quite a bit. If you like the virtual villagers you will sure like this. There are some funny and wacky things your family will do like squeeze a pimple or stomp ants. It is even kinda funny when the adults argue. You have some puzzles to solve and home repairs to do as well as raising kids and working. Some wee people love to work, some are lazy and many are in the middle.

- by Pinmom
Yet another excellent real-time casual game from LDW! Like the Virtual Villagers games and Plant Tycoon, Virtual Families plays in real time, which means that your little family will change even while your computer is off. Just don't forget to check on them often to make sure they have enough food. Within a few days you can play through an entire generation and then pick your favorite child to inherit the house and start his or her own family. While you can't leave the house, there is a lot to do, like helping your family succeed in their at-home job, looking for collectibles, praising or scolding behaviors, and buying new stuff from the shop. The best feature is the 100 trophies! Some of them are very easy and some are very hard or even seem impossible at first glance. It's not the kind of game you can play for two hours at a time... more like you check in a few times (or even just once) a day for ten minutes or so. When your family is starting out you tend to spend more time with them, and then once they're established they need you less. I'm already on the 4th generation of one family and the 2nd generation of another, and it's really great to see the family tree grow. Unlike the Virtual Villagers games, there are not really a lot of puzzles to solve (just three that I counted), and the emphasis is on seeing a family grow over many generations. It's a slow-paced, very casual game, very relaxing and easy to play, and can be shared with young kids, too! My REAL family loves LDW's games and we really love Virtual Families. Oh, and the people are now bigger and cuter than in Virtual Villagers. Love 'em!

- by LucyS
I enjoyed this game as much as the villager games and will be adding it to my wish list. unlike the villager games this one does not let you know how long Mom will have the baby. oh well I still like the game.

- by oleflabchgal64
Related Games
If you like Virtual Families game, you may also like...