Bistro Boulevard
Build your own five-star restaurant! in addicting Bistro Boulevard Game
System Requirements
OS: Windows XP/Vista
CPU: 1.0 GHz
RAM: 1280 MB
DirectX: 9.0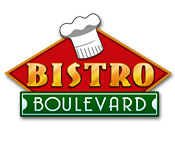 Bistro Boulevard Game Description
Turn one modest diner into a promenade of five-star restaurants! Hire staff, pick the menu, and decorate your restaurant to impress your customers. Experiment with ingredients to discover new recipes. Upgrade your kitchen with high-end equipment to cook fancy recipes and speed up your service. Personalize your dining room with hundreds of decorations. It' all you to up in Bistro Boulevard, a fun Time Management game!
Bistro Boulevard full version features include:
Bring Bistro Boulevard back from the brink in this fun Time Management challenge.
Restore six restaurants serving unique international cuisines.
Hire restaurant staff, pick the menus, and decorate the diners.
Experiment with ingredients and discover 72 recipes to serve.
Upgrade the kitchens and staff to build up your clientele.
Bistro Boulevard Game Customer Reviews
I love this game. The food looks real and you can decorate your resturant any way you want, train your staff and even choose uniform colors and much like running your own resturant. Can't get enough of this game, love the menu and recipes. Please give us a new Bistro Boulevard or maybe GameHouse Boulevard haha!

- by diamonddz
I really enjoyed this game. It is a better version of restaurant empire. Restaurant Empire was a bit slow and repetitive, but this game is a lot more involved and you feel like you are actually working towards something. It is not as intensive as most time management games are - during the opening hours you just seat the customers, but this is more of a tycoon game (like fairy godmother tycoon, or the icecream tycoon games) - you set the restaurant up and see how well you did. You earn stars which open new restuarants and you earn stars by adding decor, training your staff and matching recipies to what the customers want to eat to the chef that's most able to cook it. It's a lot of fun and kept me entertained for hours!

- by squigglyhopper
This is one fun game. Very original and addictive. It's a little bit like Restaurant Empire but much simpler. I'd call it more of a strategy game than TM. At the beginning of each restaurant you will open, you hire & develop both chefs and waiters, plan (and discover/unlock) menu items and have to design the floor layout and design. Then when it's time to go "live", it's up to you to make the most of your seating arrangements and choices to fulfill the goals. It may not sound like much but trust me, once you start playing, you will NOT want to quit when the demo time is up. In fact, I couldn't even wait for this game to hit one of the portals (where I have credits accumulated) so ended up paying full price from the developer. Was well worth it and a nice surprise to something I thought I'd just have a quick look at. Lots of fun and can be kinda challenging (though not too hard) to figure out the recipes (you have to guess the ingredients for real dishes). Really enjoyable and it is fun even just to watch your restaurant run. Highly recommended.

- by Lisa522
What a great game! It's not just about putting people at a table. This is a tycoon game and takes thought and planning. You must take your restaraunt and make it five stars by planning the menu, training staff, buying tables, redecorating floors, walls, chairs etc... You must look at what the people like to eat, buy the items and plan the menu this way when you open up, THEN you seat the people and see how all of your planning worked out! If it wasn't part of the All Access group, I would have been buying it immediately!

- by kcerqua
It's one of the best time management/strategy/tycoon games I have ever played. You plan how to manage your own bistros from hiring staff, decorating your bistro, to choosing recipes. You don't have to rush to serve customers like in diner dash! Just planning and decorating! It is easy to play. But it needs a lot of thought. I am so buying this game. Personally, I loved the game. N you should buy it too!

- by Nina Green
Related Games
If you like Bistro Boulevard game, you may also like...