Build-a-lot
Flip houses for big profits in this exciting strategy game! in addicting Build-a-lot Game
System Requirements
OS: Windows 98/ME/2000/XP/Vista
Memory: 256 MB
CPU: P500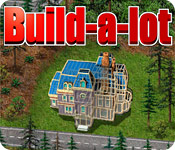 Build-a-lot Game Description
Send the housing market through the roof as you build, buy, and sell houses in the new strategy game, Build-a-lot! You can flip houses for quick cash or sit back and watch the rental income pile up. Become a real estate mogul as you visit scenic towns, earn huge profits and perform special favors for the colorful local mayors. Can you build a new cinema for the local movie star? Install a bowling alley in the Mayor's Mansion? No problem! There's plenty to do and lots of fun ahead in Build-a-lot!
Build-a-lot full version features include:
Flip Houses For Profit!
Play Career Or Casual Mode!
Special Buildings Like Museums, Mansions And Castles!
Fun House Upgrades!
Build-a-lot Game Customer Reviews
The most fun i've had with a casual game. It made you think but it wasnt overly difficult. Graphics weren't great but didnt need to be for the type of game it is. A refreshing change from all the Match3, hidden object games that are flooding our casual game stores.

- by gnovak1
I got addicted to this game from the first time on. Fun, excitment, good story. And because of the several diffrent goals it also brings a good variosity, it is never boring. Several ways to reach the goal, what gives it a good replay-appeal.

- by Kayleigh_
My fourteen year old daughter and myself play this game together. She plays and I keep up with her materials and which homes need repairs. We discuss what to sell and what to keep. We both enjoy this game and it is something we can do together. We have not been able to buy this one yet, so we try to find it an hour at a time. So for us it is extremely fun, well worth downloading. Great game.

- by Elizabeth Murray
Related Games
If you like Build-a-lot game, you may also like...