The Timebuilders: Caveman's Prophecy
Guide your tribe out of its cave! in addicting The Timebuilders: Caveman's Prophecy Game
System Requirements
OS: Windows XP/Vista
CPU: 1.4 GHz
RAM: 1024 MB
DirectX: 9.0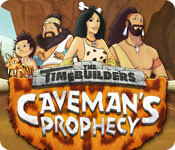 The Timebuilders: Caveman's Prophecy Game Description
Explore a forgotten time when dinosaurs ruled the earth in The TimeBuilder: Caveman's Prophecy, a fun Time Management game! Guide your tribe out of their cave and into the world. Discover new lands filled with dinosaurs, carnivorous plants, and mischievous saber-toothed kittens. Use all your skills to manage your people, build houses, and gather resources while creating awesome inventions to help your people!
The Timebuilders: Caveman's Prophecy full version features include:
Challenging puzzles
Fantastic story
Guide your tribe out of its cave!
The Timebuilders: Caveman's Prophecy Game Customer Reviews
I liked the first one and so this one too. I'm so surprise that the sequel comes out so fast!!! Liked the theme and the story, enjoyable and nice gameplay. TM fans if you're disappointing with yesterday TGT, you should be happy with this one, bought it!

- by TeamSD
This is a charming little builder game. Sometimes I like to play a game that is not overly-complicated or time-intensive. Many reviewers remark on the sound/volice/music. I can't comment on that aspect of this (or any other game) because I don't play any games using these features. Sound features are very distracting for me.

- by Silverwolf
Needless to say I WILL be buying this one! I LOVED the first in the series (Pyramids) and am equally in love with this one.

I really like that the actual characters are the same (even same names) as those in the first of the series. It's quite funny. As to the houses being just thrown together from just rocks... Well, it IS cavemen. What else were they going to build with?

I like that you can put it in HD mode to get a clearer picture as well. I like the little bird-like creature that hops in the air and makes a trilling noise, really cute. And I see the fox is back as well.

Haven't gotten to far yet, but had to stop to come in here and comment. Can't wait to see what they do to replace the thieves. Great fun - looking forward to many happy hours trying to get gold, then beat my times. Yahoo!!

- by cstdenis
Related Games
If you like The Timebuilders: Caveman's Prophecy game, you may also like...