Cake Mania 2
Choose which path Jill pursues in her next out-of-this-world adventure! in addicting Cake Mania 2 Game
System Requirements
OS: Windows 2000/XP/Vista
Memory: 512 MB
DirectX: 9.0 or later
CPU: P800
Video: 3D Video Card with 16MB Video RAM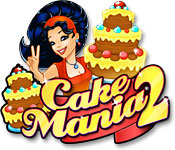 Cake Mania 2 Game Description
Jill is back in an all-new, out-of-this-world adventure! Explore six far-flung bakery locations, serving up deliciously original creations! What awaits Jill? Fame? Fortune? Love? In Cake Mania 2, you choose which path Jill pursues, with each decision leading to new baking challenges and dilemmas. With 204 levels of baking and frosting madness, 6 different possible endings and a branching, non-linear storyline, it's your decision to make in Cake Mania 2!
Cake Mania 2 full version features include:
You Choose Jill's Path And Future!
18 All-New Quirky Customers!
204 Sweet Levels!
50 Unique Kitchen Upgrades!
Cake Mania 2 Game Customer Reviews
Well I don't know what to say... It is a fantastic game for all those who were fans of the origanal Cake Mania, Cake Mania 2 is new and improved from the first as right from the start you get to choose your own way down the path to victory and succsess helping out your friends in need and earning a little cash on the side, the graphics are excelent, the sound can get a bit anoying but its alright, the gameplay concept was truely fun and easy to control, and overall a truely awesome game!!! P.S. I even bought the game! :P

- by KicoPrincess
The long awaited sequel to Cake Mania and Cake Mania - Back To The Bakery, this game really delivers! Tons of levels with increasing difficulty, plenty of upgrades to keep those customers happy and a much-improved storyline make this game sure to please Cake Mania fans! The addition of new game elements (such as the ability to right click and swap cakes) helps this game with overall playability and enjoyment. The "chose your path storyline" also increases the replay value of the game....

- by Heather89
Related Games
If you like Cake Mania 2 game, you may also like...