Grave Mania: Undead Fever
Put zombies to rest! in addicting Grave Mania: Undead Fever Game
System Requirements
OS: Windows XP/Vista/Win7
CPU: 1.6 GHz
RAM: 1024 MB
DirectX: 9.0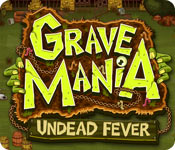 Grave Mania: Undead Fever Game Description
After the dead start to rise, Funeraria Loca sees their funeral parlor business go down the tubes! Find a new way to put them to rest in Grave Mania: Undead Fever, an incredible Time Management game. After the people of Pastryport are turned into zombies, it's up to you to put them underground! Fix up the undead and put them back in their graves to collect big bucks and upgrade the parlor in Grave Mania: Undead Fever!
Grave Mania: Undead Fever full version features include:
Run a funeral parlor
Fix up the undead
Put zombies to rest!
Grave Mania: Undead Fever Game Customer Reviews
This is a great TM game. It is similar to other TM games but it has a few differences that make it fresh and fun. i love all the little things that make it great such as when you are waiting for a page to load it says eat brains on the bottom. The storyline is good and you don't have to sit through it if you don't want which I really like. The other feature I enjoyed was you don't have to wait for the clock to finish at the stations before moving on to the next task. Other TM games make you wait and I always feel like I'm wasting time when that happens. The challenge increases with the levels and I think it will be one of those games I'll play more than once. If you like TM games you'll love this.

- by AndThenAgain
You just have to save the people of Pastryport from those nasty Zombies! Fill them up with the embalming fluid, set their bones, give them accessories...and send them to their final (we hope) resting place. If they don't want to stay dead? Whack 'em on the head!!

Is this rocket science or brain challenging? Heck no! This is just, good ol' fun with the emphasis on being warped.

- by ivillagegrinch
While the gameplay is somewhat like the salon games, the twist is enough to make it different. I thouroughly enjoyed this one and the idea and storyline are well thought out. Graphics are good and I even enjoyed the music. You have to send zombies back to the grave by offering them different treatments before putting them into coffins, there are also different mini games at each station each with it's own gruesome (but fun) twist. At first I felt sorry for the zombies but then they escaped and infected me! The levels start off nice and easy but become more challenging. The upgrades are basically training butler zombies that you catch to help you and making the machines quicker/more comfortable. There is definitely enough variety and challenge to make this one worth purchasing. Enjoy!!

- by neiljennie
Related Games
If you like Grave Mania: Undead Fever game, you may also like...