Island Tribe 3
Rescue the chief's bride! in addicting Island Tribe 3 Game
System Requirements
OS: Windows XP/Vista/Win7/8
CPU: 1.2 GHz
RAM: 512 MB
DirectX: 8.0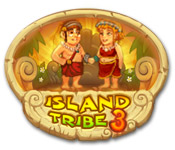 Island Tribe 3 Game Description
Find the magic runes, rescue the bride and dive into exciting island adventures in Island Tribe 3, a fun Time Management game! Help the future leader of the tribe find his beloved and open the doors of the ancient temple by finding magic runes. Return to the island where the great volcano no longer poses a threat and the dream of everlasting peace seems to have come true in Island Tribe 3!
Island Tribe 3 full version features include:
44 levels full of new features
Exciting time management and strategy gameplay
4 colorful episodes and bonus levels
Vibrant, detailed graphics
Follow the romantic love story
Island Tribe 3 Game Customer Reviews
This game is 40 levels plus 4 bonus of resource management--at least that's what I've found-- and they're all fun. Little people run around in this second sequel chopping wood, pumping water, producing cement, catching fish for bears, crossing rappel ropes, etc., and it's fast, really fast. To get the bonus levels, you have to find three pieces of an artifact in each level of 4 stages which are marked by doors that never seem to open. A guy comes in once per level showing an object you're supposed to find; it's not too hard to scout it out.

You start out with just a small visible area, and the area grows (the fog lifts) as you collect more things. You can also upgrade your buildings but the workers never seem to move too fast, only the runners (you) do! Sometimes mother natures comes and ruins your buildings and you have to rebuild. You can queue for as long as items are available for you to get, and it's nearly as clicky as Insaniquarium and Feeding Frenzy.

Take breaks so you don't get carpal tunnel, and have fun. I am!

- by yusef
This game is so cute! If you enjoy building/time management games similar to Royal Envoy, you'll probably like this game. The graphics are adorable! The music is cute, but not too intrusive. The gameplay is of the "collect resources, build/fix things" variety, but it's fun. You can also collect various artifacts in the levels. Some are hidden until you remove fog by building totems and such. The best part of this game is that there are four difficulties to choose from. One is even untimed, in case you dislike timed games.

- by Imberis
Brilliantly balanced game, like Roads of Rome or My Kingdom For a Princess. I had to replay some levels to find all the artifacts, but I loved that every level was actually achievable, but still tense!

- by Groveldog
Just like the first two, you go around collecting items, repairing buildings, and chasing animals. They added saving rabbits and boating to other islands to the list. There's a glitch at level 4 that shuts down the game. Other than that, it's a great game.

- by ppvjeep
luv this series of games. it's like the others-u send workers to perform tasks. u have to build/update buildings, rebuild totems, collect materials, put out fires, shoo away boars/bears, rescue animals...while this game is like several other TMGs, i love that u can click on tasks while ur workers are performing other tasks. u don't have to wait 4 them to return to their house. i luv to see the workers walking the tight rope, rowing the boat. the sounds enhance this game. i can play it for hrs. great job...

- by emi1
Related Games
If you like Island Tribe 3 game, you may also like...