Defender of the Crown: Heroes Live Forever
Rescue princesses, fight foes. in addicting Defender of the Crown: Heroes Live Forever Game
System Requirements
OS: Windows ME/2000/XP/VISTA
CPU: 600MHz or faster Processor
RAM: 128 MB
DirectX: 6.0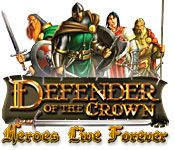 Defender of the Crown: Heroes Live Forever Game Description
The beloved Cinemaware classic returns! Battle five cunning lords for control of medieval England. Build and lead your armies of knights and archers on the battlefield, and conduct daring raids to rescue princesses and pillage treasuries. Compete in jousting and archery tournaments, and lay siege to your foes with catapults and Greek Fire! Gain fame, outsmart, and outmuscle your foes to lay sole claim to the British crown!
Defender of the Crown: Heroes Live Forever full version features include:
Compete in mini games.
4 heroes to play.
Superb graphics and sound.
Defender of the Crown: Heroes Live Forever Game Customer Reviews
Great game! Conquer all lands and be King of England! This game similar like 12 years ago game Robin Hood (if someone know and remember). I'm going buy this game.

- by Edragonxx
Just having browsed Reflexive today, and I see this, and shed a tear of joy. Being a veteran PC Gamer, before all of you were born, this game was fantastic, and created a memory that surely resonates today from all those who have played this title before, on the legendary Commodore Amiga. Well done reflexive, and oh, please, just a sign, tell me, when can I play Wik2?

- by Nobleatreides
Ohhhh the memories of this game. Years ago back when there was just DOS. I Loved the game then and love the game now. The mini-games are a neat little addition as well. Thank you Reflexive for bringing back the memories!!!!

- by icemanhascometh
Related Games
If you like Defender of the Crown: Heroes Live Forever game, you may also like...