Crazy Machines
Build wacky contraptions with gadgets. in addicting Crazy Machines Game
System Requirements
OS: Windows XP/Vista
CPU: 800 Mhz
RAM: 256 MB
DirectX: 8.0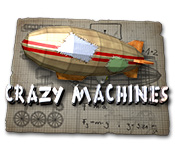 Crazy Machines Game Description
Travel from the bazaars of Egypt to the white sands of the Caribbean, then blast into outer space. Tinker with wrecking balls and lightening rods to weld crazy machines. Can you conquer over 200 elements in these brain-bending puzzles? Catapult crazy machines into high gear, and create a chain reaction using springs, gears, and other parts in this wacky contraption game.
Crazy Machines full version features include:
Contraption Puzzle game
Incredible physics
Create the Ultimate Machine
Get help at our Forums
Crazy Machines Game Customer Reviews
This is a really great game. You can spend hours figuring out how to solve the problems that are set up for you. You get to figure out mechanical, electrical and generally silly ways to solve the challenge. There are 102 screens with contraptions to solve. Then you can go to the extra challenge and get 100 or so more screens that are even more complex, complicated, convoluted, confusing, confounding and crazy machines. but fun!. Great replay value and very much worth the money!!

- by grammie_jan
I am 8 years old and I got Crazy Machines for my Birthday. This is the best game in the world but if you don't like complicated things you won't this game. The four main things are fire, rope, electronics,and the next one I will let you discover. You can either build your own machine or you can figure out problems that may seem hard but after you've done them awhile they are easy. Some of the things that you can build with are boards, balls, robots, cannons, goo, blimps, cords, gravity controlers, scissors, tubes, and plants. Buy this game and have tons of fun!

- by North Dakota Kid
This game is great, you use your ability to plan ahead, with multiple things going on at the same time, and sometimes frustrating, but overall lots of fun.

- by Anonymous
Related Games
If you like Crazy Machines game, you may also like...