Cut the Rope
Cut the ropes to release candy and feed Om Nom! in addicting Cut the Rope Game
System Requirements
OS: Windows XP/Windows Vista/Windows 7
CPU: 1.0 GHz
RAM: 512 MB
DirectX: 9.0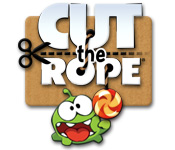 Cut the Rope Game Description
A mysterious package has arrived, and the little monster inside has only one request... candy! Cut the ropes to release candy into Om Nom's mouth. As you satisfy his sweet tooth, collect shiny gold stars and unlock new levels. Join millions of others who have enjoyed this critically acclaimed physics-based puzzle brought to you by ZeptoLab.
Cut the Rope full version features include:
275 levels and 11 level boxes
Innovative gameplay mechanics and realistic physics
Adorable character and outstanding graphics
Winner of multiple Best Game awards
Cut the Rope Game Customer Reviews
After playing virtual Cut the Rope for so long, I thought the board game was going to be a let down, But it's actually really fun, and definately worth the money :)

- by Dallas Porter
the Game Cut the Rope is one of the best apps games you can play.know the game is on Big fish games. at first this game looks easy but its knot took me 2 hours just to work out the first box of 10 this is a great game for the mind you really have to think when playing this game the game its self is simple but dose take time to work it out and when you do you have that great felling of pleasure that you have completed that box only 9 more boxes to go if you looking for some thing different from all the rest of hiding games then is one to go for highly recommended.

- by celtickid12
completely worth it. idoubt u would regret gettin thisgame, unless you are not a fan of puzzles.

- by viner16
What a fun and addicting game. Very simple rules to follow, simply click and drag your mouse over the rope to cut it and release the food allowing it to drop into the monsters mouth. Oh but wait, did I mention that the other goal is to collect 3 stars randomly placed by cutting just the right rope at the right time to swing by the stars before being eaten? As the game progresses you will get added features such as bubbles or extra ropes. You should try this game, it will surprise you! Enjoy!

- by pennmom36
Related Games
If you like Cut the Rope game, you may also like...