Darkness and Flame: Born of Fire Collector's Edition
Embark on one girl's amazing journey. in addicting Darkness and Flame: Born of Fire Collector's Edition Game
System Requirements
OS: Windows XP/Windows Vista/Windows 7/Windows 8/Windows 10
CPU: 1.6 GHz
RAM: 2048 MB
DirectX: 9.0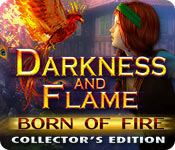 Darkness and Flame: Born of Fire Collector's Edition Game Description
Alice was just an ordinary girl, until she found an egg in a strange chest. With just one touch, a firebird hatches from it, changing her life forever. Now she's forced to leave her home, faced with a dangerous adventure full of wonders beyond her imagination. Can Alice summon the courage to overcome all that Fate has in store for her?
Darkness and Flame: Born of Fire Collector's Edition full version features include:
Bonus chapter featuring a different central character.
Collections, achievements, morphing objects, bonus puzzles.
Wallpapers, concept art, soundtracks and more.
Strategy Guide included.
Game Screenshots
(click on Darkness and Flame: Born of Fire Collector's Edition game screenshots to zoom)
Darkness and Flame: Born of Fire Collector's Edition Game Customer Reviews
Very colorful and is a nice change from the dark games. It seems to be more adventure than HOS so far. There are many morphing objects and collectibles. It looks like this will be a nice easy game which is fine with me. I had fun playing the demo and that's what matters to me the most.

- by mhatfie
Just a small review after playing the demo. A gentle paced game with morphing objects and lots of collectibles. Music is unobtrusive and it is a pleasure to play a game with a fairy tale feel to it. A game of bright colours (could change later on) and very relaxing to play. To many dark games out atm and this game, for me, is a joy. Well done devs and will be purchasing.

- by Newmenor
What a very enjoyable game. The whole game was Graphics, music, settings selections, story-line, mini-games, collections, morphs, hidden object scenes, guide, map, hints ...All were a very nice surprise.

Played on my desktop PC running factory installed Windows 10 with no problem.

- by yowzasma
What an interesting story this is. I always want to go on playing in order to get further with the story. Besides this the graphics are so great that "gorgeous" does not describe them. Very intelligent buit HO-scenes, collectibles, beautiful scenery and a story with tension. All i could wish for. Thanks!!!

- by gyanda
Graphics were pretty good with nice color, story line very good, lovely music -- quite relaxing for me, as is this game. Logical in that I could figure out what to do in order to move along in the game. Mini games are fun and some were new to me so they took some strategic thinking. HO's were few, at least in the demo. Strategy Guide was helpful. I did not use the hint. The diary provides conversations, what has happened, and your goals/tasks. Down in the left corner is where you click to view your collections, etc, and the Strategy Guide. A bird spreads it's wings and there you make your selection. There are three different collections (I think) and morphs which are not too difficult to find. I played on casual for the demo and had no technical difficulties on my PC Windows 8, 64 bit. This is a definite buy for me.

- by jan1949
Related Games
If you like Darkness and Flame: Born of Fire Collector's Edition game, you may also like...