Dream Chronicles 2: The Eternal Maze
Wake Up! It's time to Dream again with Dream Chronicles 2! in addicting Dream Chronicles 2: The Eternal Maze Game
System Requirements
OS: Windows XP, Windows Vista
Memory: 128 MB
DirectX: 7.0 or later
CPU: P3 700
Flash: Flash 8 Player or later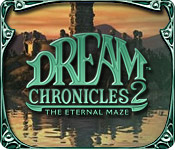 Dream Chronicles 2: The Eternal Maze Game Description
Faye is back and puzzling her way through even more enchanted realms in this mesmerizing, much-anticipated sequel to Dream Chronicles! Locked away within the Ancients' Place by Lilith, Fairy Queen of Dreams, Faye needs your help to navigate through intricate puzzles and magical landscapes. Help piece together the origin of the fairies, hunt for clues and dream jewels and travel back and forth between the realms of humans and immortals in this alluring sequel!
Dream Chronicles 2: The Eternal Maze full version features include:
The Next Part Of Faye's Engrossing Story!
80 Challenging Puzzles!
50 Backgrounds And 25 Chapters!
New Dream Jewels Mini-Game!
Dream Chronicles 2: The Eternal Maze Game Customer Reviews
I loved this game. I personally felt that this game was better than the first. There are more items to find to get through the levels, and that makes it feel more interesting. The only problem is that this demo was not enough, so I just HAD to go and buy the game.

- by muhammad09@ffat
Born-to-Be-Beautiful Dream theme (I love the green theme). Very ethereal atmosphere. No-need-to-complain graphics & visual effects. Very "fit in" music & audio. Strong characters. Interesting main narrative as much as B-stories about the Fairy World. Lots of details. Satisfied ending and length. Unique twists: solve Dream Jewels' puzzles, roam around 2 tricky Underground Mazes. Cool gameplay. Maximum addiction.

- by buzzworthy
This is one of the most difficult games I've ever played. Making it one of the longest in the process! :-) But it's ok because it's a gorgeous game with great music. (I usually turn the music off on most games) But I never would have completed it without a bit of help. Still, if all games were like this life would be good. Definitely not for beginners.

- by danmar
Related Games
If you like Dream Chronicles 2: The Eternal Maze game, you may also like...