Dreamscape
Enter the strange world of dreams... in addicting Dreamscape Game
System Requirements
OS: Windows XP/Vista/7
CPU: 600 Mhz
RAM: 256 MB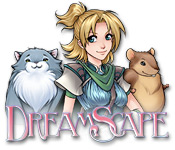 Dreamscape Game Description
Its just a normal day when Erin puts on a pair of headphones and wakes up in strange, dream-like world. How did she get here? How does she get out? Why does she see visions of her boyfriend in this world? Unbeknown to Erin, she's landed in a wondrous, but dangerous land called DreamScape. She is in grave danger, and to escape, Erin must uncover the secrets of DreamScape. This will be difficult, as the leaders of this world, the Dream Lords, are determined to see Erin fail.
Dreamscape full version features include:
4 modes: Ataraxia, Utopia, Dream and Nightmare
Lots of Goodies to discover
Loads of Awards to obtain
4 hidden characters and 1 secret world
Multiple of worlds and places to discover
Dreamscape Game Customer Reviews
This is such a fabulous game. It is so different than other RPG'S. The graphics and music blended so well together. Each main character has their unique strengths. The humor/barbs that they exchange are brillant. You enter a dream within a dream and sometimes within a dream. It is loaded with various different challenges in each dream. If you take one dream at a time you will conquer that dream. This is a dream that you really should enter. It is really an out of the box RPG.

- by debhi56
This game is an absolute winner and my favourite RPG of the year so far (along with TLO).

The concept is very unique, exploring various peoples dreams (as well as dreams within dreams) and I found the idea a refreshing change from the standard RPG's.

There is definitely a strategy to the game in order to have the perfect Dreamscape but once you resist the temptation to collect every health/mana replenishing item, you will find that there are ample supplies strewn throughout the environments.

The tilesets (especially of London) were stunning and beautifully rendered. I was particularly impressed with the attention to detail of the design and music, really adding character and immersing me in this alluring fantasy world. The puzzles were intriguing and fun. I normally get very frustrated with these but because the game was so engaging I pushed on and was wonderfully rewarded.

If you want to try something a bit different, give Dreamscape a go. It is a whole lot of fun and immensely enjoyable.

- by robm
In one word : Excellent

I am playing RPGs for a long time and hv liked other games also like aveyond, laxius force etc. But this game is unique. Totally different storyline, good puzzles which make you think and evened out fighting system. I just loved this game and if you are a RPG fan like me then you will also love this game for sure. Happy gaming :)

- by ADG
Related Games
If you like Dreamscape game, you may also like...