Elixir of Immortality
Go on the hunt for a murderer! in addicting Elixir of Immortality Game
System Requirements
OS: Windows XP/Vista
CPU: 800 Mhz
RAM: 256 MB
DirectX: 8.0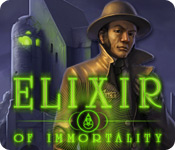 Elixir of Immortality Game Description
Journey to a foreboding island as you go on the hunt for a murderer in Elixir of Immortality, a fun Adventure game! Gather evidence and track down the criminal before they strike again! Discover ancient secrets as you explore the mysterious island, and find the legendary Elixir of Immortality that so many have tried to find! Do you dare drink the Elixir?
Elixir of Immortality full version features include:
Gorgeous graphics
Awesome gameplay
Find the Elixir!
Elixir of Immortality Game Customer Reviews
Wow--how refreshing! A game that doesn't insult one's intelligence nor gaming abilities, manages to maintain your interest and raise the bar on mini-game challenges--neatly wrapped in one "package"! As we see the detective making his way to his undercover assignment, my mind went 'oh no, not another inane HOG, puleeeze...'. Elated that those thoughts quickly dissipated as I progressed through Chapter 1. To my way of thinking a good game should be constructed similarly to a best selling novel--managing to capture the reader in that initial paragraph and mesmerize them, intensifying their desire to read and read on. IMHO this game needs no tweaking--it is A+++ as it is, and KUDOs to the developers! Just in case I've errently missed my point, I THOROUGHLY ENJOYED THIS GAME! Did I mention that 18 minutes into the game I purchased "Elixir of Immortality"? Treat yourself, if you haven't done so already, try the game...you deserve it!

- by nance91947
This is the game that everyone should purchase. An adventure hidden object game that has beautiful graphics, the people were intricately done. The music fit and was not repetitious and actually beautiful. The mystery story immediately sucks you in and you only want to know more. The puzzles were really interesting and fit the story and also the HO. I hope they continue to make games like this.

- by twopandas
This is an outstanding game! I'm getting really tired of the boring HOGs that every developer seems to be rolling out lately. Elixir of Immortality is not one of them. It has just the right mix of minigames, HO scenes and adventure that make it really fun to play. The graphics are just as good as another BFG game out lately, "Flux Family Secrets - The Rabbit Hole". Storyline is really nice, you can skip or FF through them, which if you're a fast reader as I am can be really annoying when you're stuck reading at a slow pace with no way to speed it up. I played this game through twice in a row and it was really fun. This game is well worth the $9.99 price, one of the few I might've been willing to pay a little more than required. Get this game, you won't be disappointed. A+ or 5/5.

- by Vicki_S
Related Games
If you like Elixir of Immortality game, you may also like...