Gardens Inc. 4: Blooming Stars Collector's Edition
Become an international TV superstar! in addicting Gardens Inc. 4: Blooming Stars Collector's Edition Game
System Requirements
OS: Windows XP/Windows Vista/Windows 7/Windows 8/Windows 10
CPU: 2.0 GHz
RAM: 2048 MB
DirectX: 9.0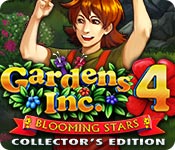 Gardens Inc. 4: Blooming Stars Collector's Edition Game Description
After their splendid wedding Jill and Mike are widely recognized gardening superstars. When they are approached by the TV network to do a reality show about their work, they do not hesitate and jump right into it. It seems like a great opportunity for the couple, as they are expecting a baby! However, a career in television might not be as pleasant as it may seem... and certainly more dangerous.
Gardens Inc. 4: Blooming Stars Collector's Edition full version features include:
10 additional levels!
Brand new achievements, pushing your gardening skills to the maximum!
A set of beautiful wallpapers!
Integrated Strategy Guide for all your advanced strategy needs!
Game Screenshots
(click on Gardens Inc. 4: Blooming Stars Collector's Edition game screenshots to zoom)
Gardens Inc. 4: Blooming Stars Collector's Edition Game Customer Reviews
I hadn't played the Garden Inc. games in awhile, but this one will bring me back to the fold! In some of the earlier games I got stuck and ended up not even finishing the games. This has an option for a relaxed mode and that is just right for me. I personally loved decorating the room with the cash I earned for doing the shows. Also loved the little twists thrown into the plot. Because it is CE I will probably wait for a really good sale to get it. It is definitely on my list.

- by hoosierhasbeen
I've been eagerly waiting for this new Gardens, Inc game since I finished the last one in the series - replaying it several times. The story line is a big plus and the graphics have steadily improved. But its the game mechanics that I love so much, And I really have not been a fan of TM games at all. This series of games has hooked me because of the strategy required. You can get past the levels without winning but then you can go back and analyze the goals and replay with improvement each time. Also, the role of money to buy items for the baby's room is an additional feature - its not quite as satisfying as some of the previous buy-to-improve scenarios in the past but its still good. I will be playing this latest game over and over - waiting for the next one eagerly.

- by jkuci
Related Games
If you like Gardens Inc. 4: Blooming Stars Collector's Edition game, you may also like...