Gnomes Garden
Save the gardens and make the king better again! in addicting Gnomes Garden Game
System Requirements
OS: Windows XP/Windows Vista/Windows 7/Windows 8/Windows 10
CPU: 1.0 GHz
RAM: 512 MB
DirectX: 9.0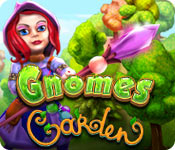 Gnomes Garden Game Description
A wonderful garden had always brought joy to all the people of the kingdom and all the residents of the castle. But a dry summer withered the king's beloved garden and the surrounding gardens of the kingdom alike. The ruler has fallen ill and the kingdom is in danger. Help the princess save the gardens and make the king better again. Construct buildings, remove obstacles, repair damaged bridges and restore the beauty of the royal garden in Gnomes Garden!
Gnomes Garden full version features include:
Colorful graphics and wonderful music
Varied quests and an exciting plot
Over forty levels
Gnomes Garden Game Customer Reviews
Gnomes Garden is a time/resource management game simliar to the 12 Labours of Hercules, except dumbed down. It's a fun game, just not as detailed as the aforementioned game. You start with one gnome and can upgrade up to 3. You build various buildings and unlock other characters, a fireman and a sorcerous that can be upgraded up to 3 also. There's an annoying little green guy who the fireman chases off, but if he catches you it causes confusion. If you like the genre, pick it up.

- by Krazedlion
Cute little game! Nice game and cute story line. Enjoyed the power ups that kept it interesting. Worth the time.

- by Alschorn
i admit that i am really into tm/strategy games, i buy almost everyone i try. this is a good one. i enjoy watching the little people running around doing my bidding. the graphics are clear and pretty. you can cue up a number of tasks at a time, as long as you have workers and resources. the levels get more difficult as you progress and i wasn't able to get 3 stars on the first go after level 13. there isn't anything really new about this game, but if you are looking for a relaxing, entertaining game to pass some time, this is a good choice.

- by karema
Related Games
If you like Gnomes Garden game, you may also like...