Go-Go Gourmet: Chef of the Year
Cook your way into culinary stardom. in addicting Go-Go Gourmet: Chef of the Year Game
System Requirements
OS: Windows XP/Vista
CPU: 600 Mhz
RAM: 256 MB
DirectX: 7.0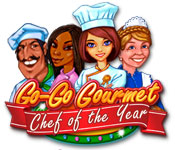 Go-Go Gourmet: Chef of the Year Game Description
Go-Go Gourmet, the unique blend of hidden object and time management game, returns in an exciting and challenging new sequel. Help Ginger compete for fame and glory! Prepare local specialties in 7 countries and put your cooking skills to the ultimate test against seven of the world's top chefs. Find ingredients quickly and cook up delicious recipes for each judge. Can you win the toughest cooking tournament and become the Chef of the Year?
Go-Go Gourmet: Chef of the Year full version features include:
Follow the hilarious storyline through 7 countries
Earn expert points to unlock 7 printable recipes
Unlock 21 cooking outfits for Ginger to wear
Search And Saute Your Way To First Place!
Go-Go Gourmet: Chef of the Year Game Customer Reviews
What an excellent sequel to the original! In fact, I think it's BETTER than the original. Lots of little extras in this version. The wardrobe changes (some have special powers), judges, international competition theme, and power-ups were just the right touches to add. The bonus games are really great. Try this game! You won't be sorry.

- by sprootles
Tired of time management titles? Had it up to here with hidden object games? Perhaps you should reconsider. Combining the best aspects of both with a reality cooking show-style presentation, Go-Go Gourmet: Chef of the Year resumes where its predecessor left off, serving up a tasty hybrid of gameplay styles.

...Basically more of the same, but offering a slightly wider variety of sights and options, Go-Go Gourmet: Chef of the Year serves up a delicious helping of game styles thats hard to dismiss. However, do be aware going in, especially if youre not a veteran keyboard jock. Like the sugar rushes the many cakes and confectionary goods youll put together within would surely inspire in real-life, its willy-nilly blend of real-time shucking and strategizing can quickly and woozily go to ones head.

- by Scott Steinberg
...Go-Go Gourmet: Chef of the Year demands a lot of fast clicking and moving. Fingers will get a workout. Nonetheless, the game will please fans of the addicting original with its added components, recipe and ingredient variety, and challenge of competing with other chefs rather than just a race against the clock.

- by Meryl
Related Games
If you like Go-Go Gourmet: Chef of the Year game, you may also like...