Grim Legends 3: The Dark City
Hunt monsters in a gothic city! in addicting Grim Legends 3: The Dark City Game
System Requirements
OS: Windows XP/Windows Vista/Windows 7/Windows 8/Windows 10
CPU: 2.0 GHz
RAM: 1024 MB
DirectX: 9.0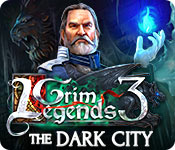 Grim Legends 3: The Dark City Game Description
Sylvia, a young acolyte of the monster hunting Order, follows the trail of the Order's ex-member Gabriel, who stole the artifact containing an evil creature called Koshmaar. The unleashed monster absorbs the entire city into its nightmare realm and now its fate lies in Sylvia's hands. Accompanied by her trusted mentor Solomon, the young heroine will need to face her ultimate trial and discover a link between the villain Gabriel and her own heritage. As it turns out, there are nightmares buried in the past even darker than demons roaming the vast gothic city.
Grim Legends 3: The Dark City full version features include:
Hunt monsters in the hand painted gothic city!
36 captivating hand painted locations!
Test yourself in 36 mini games and hidden object scenes!
Help the estranged lovers in a bonus adventure from the collector's edition.
Grim Legends 3: The Dark City Game Customer Reviews
After the first very good part and the 2nd fine now the 3rd games comes. The story looks inspirated by Assassins Creed or PS4 The Order: 1886. Its nothing special but it really looks good. The story is good with 1-2 secrets to find out. At the end of the bonus chapter you can decide for 2 ways, they end nearly same only have little differences, sound is okay, game length with 4 hours for 1 expert way and 2 short bonus ways is okay, but better get the game with discount. For hidden object fans this game is good and get 90 % (graphics could be sharper) and for non genre fans/ acheivement hunters i give 70-55 %. Thx 4 reading.

- by S.T.A.R.S Leon S. K.
Game is pretty, story plays out well, most of the puzzles and HOGs make sense within the context of what you're trying to do, the mini games are fun, and the collectibles are adorably spooky. Nice range of achievements too. Multiple difficulty levels to vary your challenge.

Had a couple of points where the click boxes seemed overly finickity and the game's performance degraded as it ran (transitions that were instantaneous started taking longer and longer) though I was running bucket loads of other stuff at the same time so it may not be noticable under more normal circumstances. Restarting the game fixed that anyway.

Totally recommend if you enjoy the point n click/hidden object combination genre. This is one of the better ones out there.

- by kazz
I did not really use to be a gamer but this game had me going for hours and really challenges your mind hours later credits roll I was like OMG I finished this game and now I play it thru in a couple hours and I do at least one time every day the only thing I would love to see is let us interact with our collectibles also is the a line of them available for purchasing I would love to collect them thanks for having a new keep the mind active keep them comming

- by Player
Related Games
If you like Grim Legends 3: The Dark City game, you may also like...