Island Tribe 5
Atlantean adventures of the Islanders! in addicting Island Tribe 5 Game
System Requirements
OS: Windows XP/Windows Vista/Windows 7/Windows 8
CPU: 1.2 GHz
RAM: 512 MB
DirectX: 9.0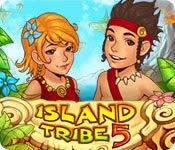 Island Tribe 5 Game Description
New exciting adventures of islanders are waiting for you in your favorite game - Island Tribe 5! Do you want to rescue our old friend - scientist? Risking his life he decides to plunge into the deeps in search of Atlantis. He finds what he was looking for... But the price is too great for this discovery - he is being held hostage by the cunning Atlanteans who take him away to their mystic country. His fate is in your hands! You will have to cope with sly golems, dreadful beasts and hidden portals! More adventures are coming!
Island Tribe 5 full version features include:
Long-awaited sequel of Island Tribe series
Familiar and absolutely new characters
Unexpected plot twists
Adventure-centric gameplay
Resource management gameplay
Island Tribe 5 Game Customer Reviews
I love this game! All 5 episodes have been fantastic with each one building on the one previously. Island Tribe 5 is no exception. In fact, I thought it was the best episode to date. The storyline is well developed and fun. Graphics are great and music is the same. It's like visiting an old friend.

In number 5, the professor has been kidnapped and sent a note to our Island Tribe friends asking for help. He tells them that he has been taken by the citizens of the Lost City of Atlantis. Our heroes go under the seas to search for clues.

If you are a fan of Island Tribe or TM Games in general, then you will love this game. Highly recommended!

- by mammamia21099
It's great fun, great colourful graphics and level 5 will drive some people crazy. It did me but with help from another player finally finished it. The pace of the game seems to be faster or maybe that's me just going at "super" speed because I'm having so much fun. We know that we have to rescue the scientist as so we're on that mission, having to overcome different obstacles. With this series I don't think the challenge level is superhuman hard but yes there are levels that I've had to restart but that's ok. This really is a great series and these are the same developers of Viking Saga which I absolutely loved and replayed a couple of times so I'm hoping that they'll also bring out at least another 4 in that series. Try the game and I'm sure you'll enjoy and buy. ENJOY:) Merry Xmas/Happy Holidays to all.

- by ozziebasia
Everything about this game is absolutely fantastic, especially the underwater levels. The new character design is refreshing, new levels are fun and quite challenging. I recommed this game to anyone who likes the Island Tribe series. You will not be dissapointed.

- by TimParty
Absolutely fantastic game. This is my favorite series of Time Management, and my favorite of the Tribe series! The underwater scenes are vivid with colors and simply gorgeous! I could play a whole Tribe game of underwater levels (hint!! Please make one??). Each Tribe game is better than the last without becoming repetitive and still being refreshing and with new challenges! You have such a creative team working on this series!

- by Cam Lufkin
Related Games
If you like Island Tribe 5 game, you may also like...