Kitten Sanctuary
Save cute kittens from alien abductors! in addicting Kitten Sanctuary Game
System Requirements
OS: Windows XP/Vista
CPU: 1.0 GHz
RAM: 256 MB
DirectX: 8.1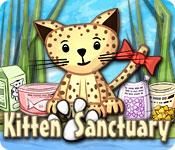 Kitten Sanctuary Game Description
The peaceful paradise of Kitten Island has been invaded by evil alien abductors! These adorable cats need your help to create a Kitten Sanctuary. Use your Match 3 skills to destroy the diabolical aliens` evil traps and free the kitties! Once freed, the kittens will need your love and affection to keep them fed and totally entertained. Purchase toy mice and yarn so you can have some fantastic feline fun!
Kitten Sanctuary full version features include:
Cute critters
Unique Match 3 gameplay
Create a Kitten Sanctuary!
Kitten Sanctuary Game Customer Reviews
This match 3 game is acutally one of the best I have seen in a long time, if I could give 4.5 I would. The music is great, the graphics are cute and original, and the kittens are just too cute! One difference from other Match 3's is that you can swap on the diagonal, that really added something new for me. You also get points for making "shapes" like L's and T's. You also earn money for new toys for your kittens to play with. The only down sides I can think of are 1) No mini games to mix it up. 2) If you are too good at the game, you don't "Have to" play with you kittens to make them happy. 3) If it had an easy mode, I think kids would LOVE this game. I know my 10 year old did! If this game had those three things, I would give this one 5 stars.

- by Nahnia
I am not much of a match 3 gamer, but heck, on this one, I even download the background it offered. A normal match 3 game but the kittens are soooo adorable. And once rescude from those aliens, they are placed in the sancuary. They all have different personallities and choose a toy to play with them. It is just too cute for me to not give it a 4 star.

- by littleone2008
Welcome! I am the spirit of kitten Island, I am here to tell you that THIS GAME IS FANTASTIC!!! Normally I'm not a really big fan of match-3 games, but this one was irresestible, as it contains kittens! Absolutely adorable! I am so buying this!

- by catgirll
Related Games
If you like Kitten Sanctuary game, you may also like...